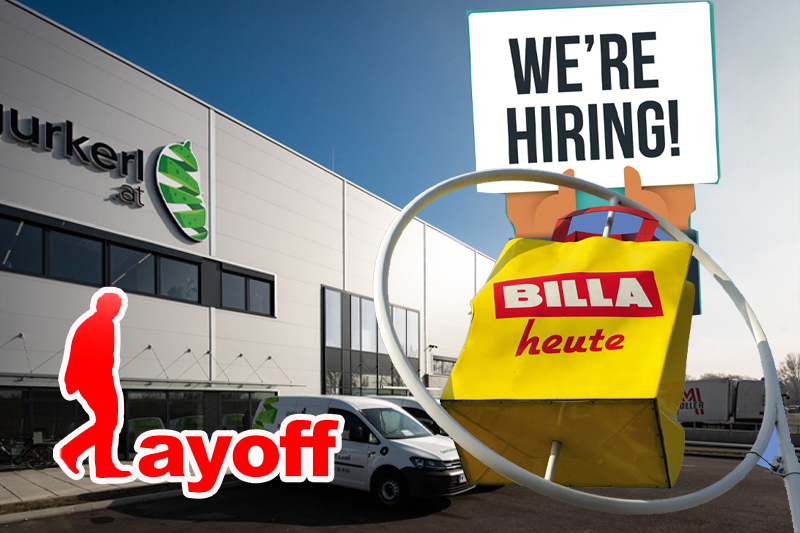 billa online shop offers jobs to employees of gurkerl.at
After layoffs at Gurkerl.at, Billa Online Shop offers jobs to Gurkerl.at employees
After layoffs at Gurkerl.at, Austrian retailer Billa plans to offer jobs to employees who have registered for termination.
According to Der Standard, Gurkerl.at has given notice of termination to 290 of its approximately 1,000 employees.
Automated systems
This is due to the planned full automation of its logistics centre in the 23rd district, according to Der Standard.
The conversion process has already begun at the Munich and Frankfurt warehouses, but the Vienna warehouse is significantly smaller and integration would take longer.
Keep Reading
Opportunities for growth
David Renker, the head of Billa online store, has now offered to hire the affected employees.
As a result, we are looking for logistics employees, since we only opened a second online warehouse in Vienna Floridsdorf, next to Vienna Inzersdorf, in mid-November 2022.
To be able to offer the best service to our customers in every situation, we interweave stationary trade with online trade as a success factor. We will email all those affected who have been registered for termination with an immediate effect job offer with a permanent position."
Groupe REWE
As one of Austria's largest employers, Billa is a subsidiary of the REWE Group, one of Europe's largest food retailers.
The REWE Group announced in December that its supervisory board had extended Lionel Souque's contract by five years.
The extension will extend Souque's tenure as CEO until 2028.
Also Read:- Breaking Barriers: More Workers with Disabilities Find Jobs In 2022