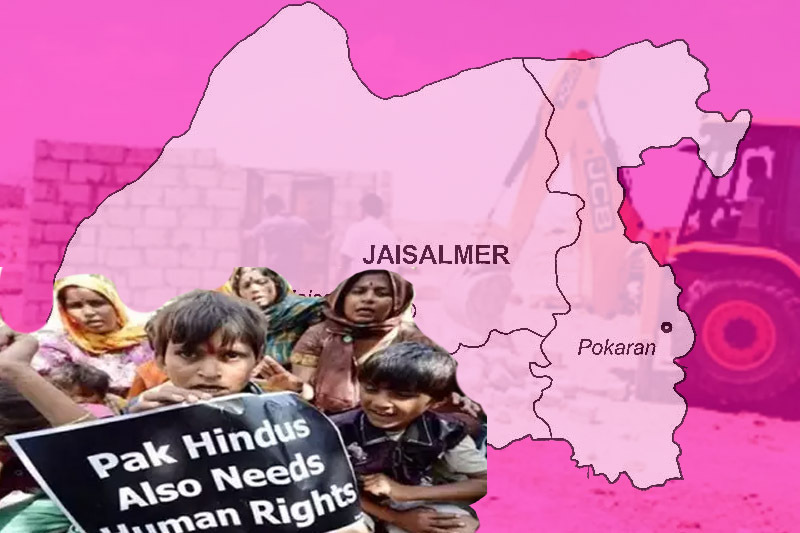 pak hindu migrants stage protests following eviction from gov't land in jaisalmer
A number of Pakistani Hindu migrants in Jaisalmer, Rajasthan, are staging protests outside the district collectorate after the administration bulldozed their 28 temporary settlements reportedly on the direction of IAS Tina Dabi.
The displaced Hindus from neighbouring Pakistan have been living in the Amarsagar gram panchayat area, 4 km from the district headquarters.
According to Times of India, the demonstrators alleged their houses were set on fire and the woman who was agitating against the decision was forcefully dragged from the area of protest. The migrants said they would not budge from their dharna until they were resettled elsewhere.
Keep Reading
Defending the eviction, IAS Tina Dabi said the action was taken following complaints from Amarsagar sarpanch and local residents.
The complainants had alleged the Pakistani Hindu migrants had illegally occupied the land reportedly belonging to the state government Urban Improvement Trust (UIT).
Prior notices had also been served to the displaced Hindus to vacate the land, but they refused to comply with the orders, Dabi added. She asserted that the state government is yet to make any announcements regarding the resettlement of migrants who don't hold citizenship of India.
During an anti-encroachment drive last month, Jodhpur Development Authority razed some 200 structures, with a majority of them belonging to migrants from Pakistan.
Following the move, the migrants filed a complaint that they were duped by three individuals who "sold" the Jaipur Development Authority (JDA) land to them.
The ruling Narendra Modi-led government passed the Citizenship Amendment Act in 2019, pledging to grant citizenship to Hindus, Christians, Buddhists, Sikhs, Jains, and Parsis from Pakistan, Afghanistan, and Bangladesh who had arrived in India by December 31, 2014.