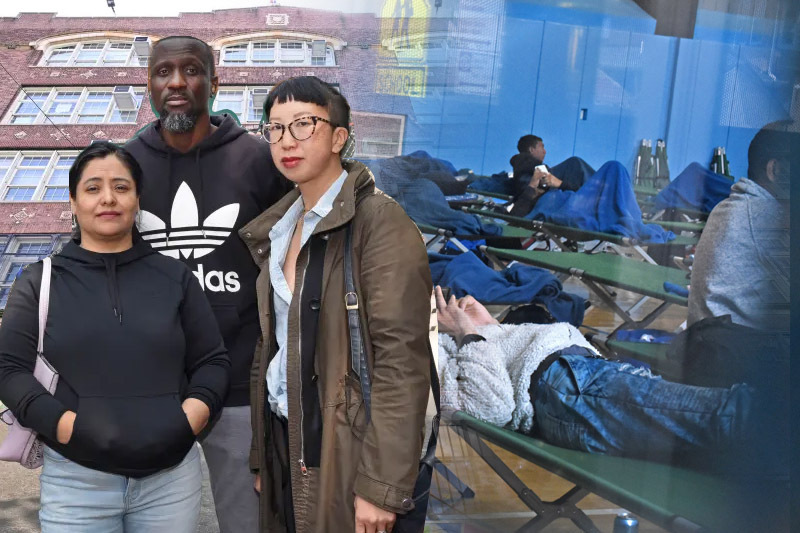 parents object to migrant housing in isolated brooklyn school gyms
Before classes even started, a group of parents gathered in front of Sunset Park's P.S. 172 to voice their opposition to a proposal to house more migrants there.
According to reports, New York City is reportedly considering or has already set up a dozen public schools, mostly in Brooklyn, as shelters. According to the mayor's office, the migrants will reside in gymnasiums that are separate from the main school building.
One parent told PIX11 News, "We don't know who's coming or what backgrounds they have." Aramis Rosa.
Concern for the students' welfare is shared by many parents, the teachers' union, and the school safety union.
Keep Reading
However, Superintendent Rafael T. in a letter distributed on Sunday.
Alvarez assured parents that the use of the school would be temporary and have no effect on regular classes.
The families won't have access to any other areas of the school where students and staff are located, so this shouldn't have an impact on how the school is run. The Office of Emergency Management, your superintendent, principal, school safety, and other city agencies will work closely together throughout this process, he promised.
In just the past week, more than 4,200 migrants entered the city. In addition to opening a new hotel specifically for them this week, the city is using 140 locations to house them.
"We are opening emergency shelters and respite centres daily, but we are out of space," the city claimed in a statement. We'll keep in touch with regional officials.
The following statement was released by the office of Mayor Eric Adams:
We have opened approximately 150 emergency sites, including eight sizable humanitarian relief centres, to accommodate more than 65,000 asylum seekers, as we have been stating for months. We continued to receive hundreds of new asylum seekers each day last week, totaling more than 4,200. Daily emergency shelters and respite centres are opening, but there is not enough room. Nothing is off the table as we work to fulfil our moral mandate, as the mayor has stated, but we should all be prepared for this crisis to have an impact on every city service. As we open more emergency sites, we'll keep in touch with the elected officials in your community.