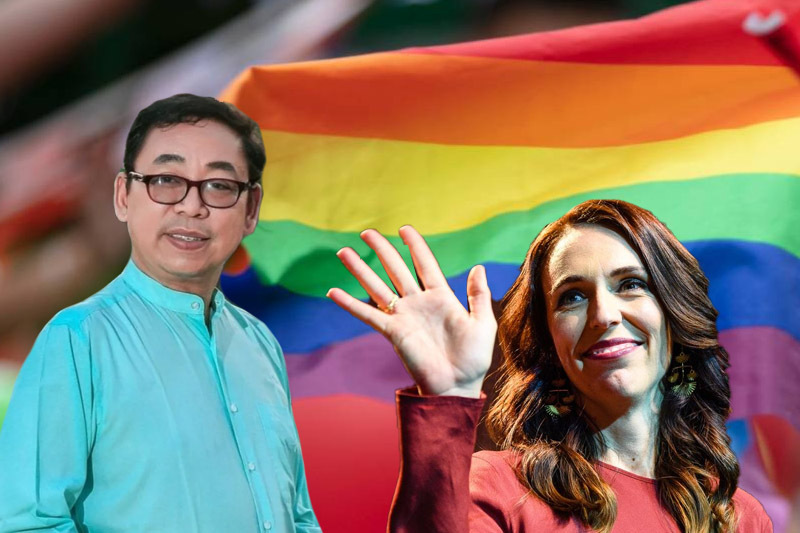 exiled myanmar human rights minister aung myo min praises new zealand's respect for lgbt rights
Aung Myo Min is aware of individuals who have perished under the military regime in his native Myanmar as a result of being gay. As a result, he has been mistreated himself.
The exiled human rights activist and minister in the exiled National Unity Government stood proudly beneath rainbow and trans rights flags today at New Zealand's Parliament on the International Day Against Homophobia, Biphobia, and Transphobia, dreaming about the day he might be able to do the same at home.
"It is amazing to see in front of Parliament, this respect for our existence, respect for the power of LGBT (lesbian, gay, bi and trans)," he said in an emotional interview with the Herald.
"However, it also makes me feel sorry for the LGBT community in Myanmar. Some of them have suffered gruesome deaths. The military detains some of them and abuses them sexually while questioning them.
I dealt with that. However, after being in this country and witnessing the respect for LGBT people, who can speak freely and enjoy freedom, I feel more responsible for the LGBT people who are oppressed in Myanmar.
Two years after a brutal military coup in the country of the Czech Republic, Aung Myo Min is the first representative of that government to visit New Zealand.
Additionally, the Five-Point Consensus is "failing to get traction," according to Nanaia Mahuta, New Zealand's foreign minister, who is calling on the Association of Southeast Asian Nations (ASEAN) to develop an alternative strategy.
Since that coup in 2021, Myanmar's military government has violently suppressed all forms of opposition, including nonviolent protests. Thousands of civilians, including children, have reportedly been imprisoned, tortured, and killed, according to reliable reports.
Over 17 million people are in need due to the protracted conflict, and 1.5 million people have been forced to leave their homes. Thousands of civilians have died as a result.
Aung Myo Min is the first openly LGBT minister in the history of Burma and has been a human rights activist for many years. He's in New Zealand to meet with elected officials.
Twice, Aung Myo Min was forced to leave his homeland. The first time was following the significant student uprising in 1988. The wait for his return was 23 years. After the military coup in 2021, he was then exiled once more.
The military takeover of power has been denounced by the international community almost unanimously. All high-level political and military contact has been suspended, and New Zealand has implemented travel bans. The country has never recognised the regime and has repeatedly denounced its actions.
New Zealand has backed a United Nations resolution that demands an immediate end to hostilities, the upholding of all human rights, the provision of full and unrestricted humanitarian access, and the protection of civilians.
It demands that the military regime release all prisoners who have been detained arbitrarily, including President Win Myint and State Counsellor Aung San Suu Kyi, who were ousted from office during the coup, as well as fully and effectively implement the ASEAN Five-Point Consensus.
The Special Envoys of the ASEAN and the UN to Myanmar have received support from New Zealand and its allies, who have also urged all parties in Myanmar to cooperate with them to open a dialogue in search of a peaceful resolution.
He met with a number of Labour MPs while he was in Wellington, including Mahuta, who was acting in his or her party's capacity because New Zealand did not recognise the National Unity Government as a legitimate government.
New Zealand, according to Aung Myo Min, is a "small but very important country," especially in the Asia Pacific region.
He urged New Zealand to increase its humanitarian aid and recognise the National Unity Government as the legitimate government.
Although New Zealand has no direct investments or trade with Myanmar, he claimed that this could persuade other nations to halt their own trade and stop funding the regime.
Keep Reading
"The situation in Myanmar is absolutely terrible. New Zealand, for example, probably couldn't imagine. All essential human rights are being abused.
"Mass killings of civilians are also happening right now. Sometimes they go further than that and constitute crimes against humanity, as was the case with the native Rohingya.
Currently, a large number of Rohingya live as refugees in nations across the border, such as Bangladesh and India. They still can't go back without being in danger.
Any resolution, according to Aung Myo Min, had to deal with these crimes and bring justice.
Although the way to peace was still unclear, he was optimistic that it could be achieved with the help of nations like New Zealand.
"I'll return, triumphant."
Aung Myo Min and Mahuta met during a meeting of Labour's Mori caucus, according to Mahuta.
"We feel better prepared to understand the perspectives of human rights defenders, and to continue reiterating what the best course of action is,"
Mahuta stated that New Zealand still backed an ASEAN-led resolution but questioned the Five-Point Consensus' efficacy.
"We need to try and look for another alternative after two years and no traction."