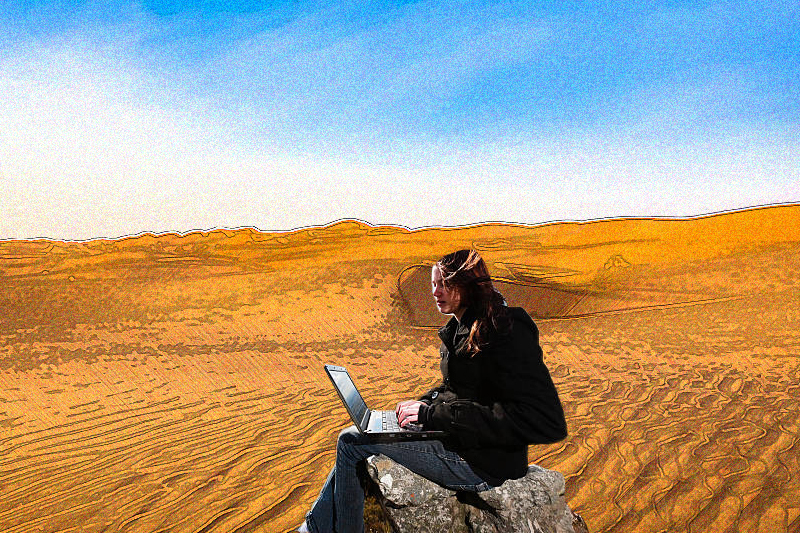 'over 53% working women are alone' says report
There's a saying that "it's lonely at the top," and new research backs it up.
In the workplace, 53% of women report feeling lonely, and the problem only gets worse as they move up the corporate ladder, according to a recent survey of more than 600 men and women across the U.S.
The Li.st, Berlin Cameron & Benenson Group's study, which was conducted in February 2023, confirms what women in the workforce have long known: getting ahead is no easy feat, and staying there isn't exactly a walk in the park either.
So the report said that , "Over 53% Working Women Are Alone"
The Li.st, a private community of high-impact women in media, technology, and entrepreneurship, is run by Ann Shoket, CEO. "This research points to a workplace crisis, a mental health crisis, and a pipeline crisis for women," she says.
We conducted this study to highlight the effects of loneliness on people's lives and careers, not to highlight how lonely people are.
The reason so many women experience loneliness is not because of their jobs, but rather because of them.
In the survey, nearly 30% of senior-level women said they felt isolated at work and that a lack of support was having an adverse effect. According to two-thirds of senior-level women, their workload and domestic responsibilities have led to feelings of burnout, stress, and overwhelm. 
The recent resignations of prominent women in leadership roles, including Susan Wojcicki, CEO of YouTube, and Jacinda Ardern, the former prime minister of New Zealand, serve as a good example of a trend.
According to a recent study by the Chicago-based executive outplacement firm Challenger, Gray & Christmas, 167 people left their CEO positions in February 2023, an 11% increase from February 2022.
According to a McKinsey & Company and Lean In report, women leave leadership positions for a variety of reasons, including the fact that they are more likely than men to face challenges, that they are overworked and underappreciated, and that they want a more accommodating and diverse workplace culture.
According to Shoket, "We believe that solitude and success go hand in hand—the notion of the lone wolf leader bearing all of the responsibility of the decisions on their own. And that makes it difficult for women to succeed. Women feel invisible, unsupported, and unable to be fully themselves at work.
When it comes to loneliness, what matters most?
Beyond its effects on productivity at work, loneliness has been linked to a variety of physical and mental health problems, including increased risks for dementia, depression, anxiety, cardiovascular disease, and other illnesses. A National Institute on Aging study found that daily cigarette use is equivalent to 15 hours of prolonged isolation.
Keep Reading
The loneliness epidemic is so pervasive that, during a lecture at Yale University last fall, U.S. Surgeon General Vivek H. Murthy stated, "It is both common and consequential, and that is one of the reasons why I wanted to raise the alarm that this is a public health issue."
Nearly 92% of the senior-level women in TheLi.st study who reported feeling lonely said they used a negative coping behavior, such as alcohol, drugs, overexercising, or overspending, to help them deal with the stress.
A pipeline issue for women leaders is made worse by loneliness.
According to a study by TheLi.st, nearly 60% of women say their feelings of isolation or loneliness have gotten worse as their careers have advanced, and nearly 53% of women have turned down a job offer, a promotion, quit their jobs, or stopped working altogether due to the negative effects on their personal lives. 
There is a generation of women who are looking up the ladder at the women who came before them and saying, "No, thank you. They see what they had to give up and how they had to compartmentalize. I'm choosing not to do that,'" Shoket responds.
Denise Hamilton, CEO and founder of Watch Her Work, a digital platform for professional women, encourages a younger workforce to reimagine what success could look like on their terms rather than completely avoiding leadership positions.
In particular, Hamilton notes that "people aren't aspiring to leadership roles the same way they used to." This is because of a kind of value adjustment that occurred during the lockdown. "We had this Great Resignation, but I prefer to refer to it as the Great Negotiation because everything was essentially on the table. Everything is open to repositioning and restructuring.
Hamilton advises doing that by considering what you'll need to succeed and how a particular position or business may be able to help you achieve those goals.
Instead of simply leaving the table, she asks, "How are we articulating what we want in these settings?" "Taking part in the reimagining of the modern workforce is really important."
For women of color, loneliness is particularly severe.
At the top, there are fewer people and it is more lonely. Only one in 20 women of color and one in four people in the C-suite are women, according to the Lean In report. According to a study by TheLi.st, Black women and women of color experience loneliness that is particularly acute and is exacerbated by disrespect for them. Compared to over a third of white women, only one in five women of color strongly agree that they feel respected at work.
Bea Arthur, a therapist and the founder of the on-demand therapy service The Difference, claims that it has only been one to two generations since women were first given the right to work, let alone reach the C-suite. "If you see a woman or a person of color at the top, you know they've been through some shit to get there and to stay there," I can tell you from my own experience as an entrepreneur and working with high performers in general.
The first and only Black woman and one of eight female founders at startup accelerator company Y Combinator back in 2015, Arthur can attest to the fact that it's not always any easier even when you're your boss. Arthur relied on a coach to help her work through the experience of frequently being the "first, only, and different," as showrunner Shonda Rhimes once put it.
She says, "My coach reminded me that respect comes from the Latin word respire, which means to 'look back at, or regard,'" That is the issue. No matter how much I accomplish, they will never value me. Being alone and feeling unsupported—that's what loneliness is—is the "not being seen" component. Being a brown person requires working twice as hard to get half as far, which is exactly what they claim.
Is there any way to deal with loneliness at work?
Arthur has primarily used coworking spaces and community organizations like TheLi.st in addition to coaching to feel less alone.
"Being a member of a good coworking space that does programming, content, and events where I could see other founders come and speak and meet other entrepreneurs has been such a game changer," claims Arthur. Although working from home offers a lot of flexibility, occasionally being around other people is beneficial.
Hamilton advises setting aside time and proactively contacting your social and professional networks to set up lunch and coffee dates, whether they take place in person or online. After all, it has been demonstrated that friendships enhance both our physical and mental health. However, it is ultimately up to businesses and policies to improve working conditions for women, particularly for those who are underrepresented in leadership roles.
"We need to stop all the coaching we give women on how to balance their work and personal lives better. This is a widespread social issue, claims Hamilton. "My advice is to be kind to yourself and recognize the challenge you are facing. You work hard, but you don't get the promotion. You get the promotion because someone in authority over you believes you put in a lot of effort.
Summary We must say – a serious health crisis, loneliness!
Researchers have discovered that loneliness affects productivity at work and is linked to a shorter lifespan than smoking 15 cigarettes per day. Work can make the loneliness crisis worse, especially for women.
This thing has to be dealt with humanity and love in our society.