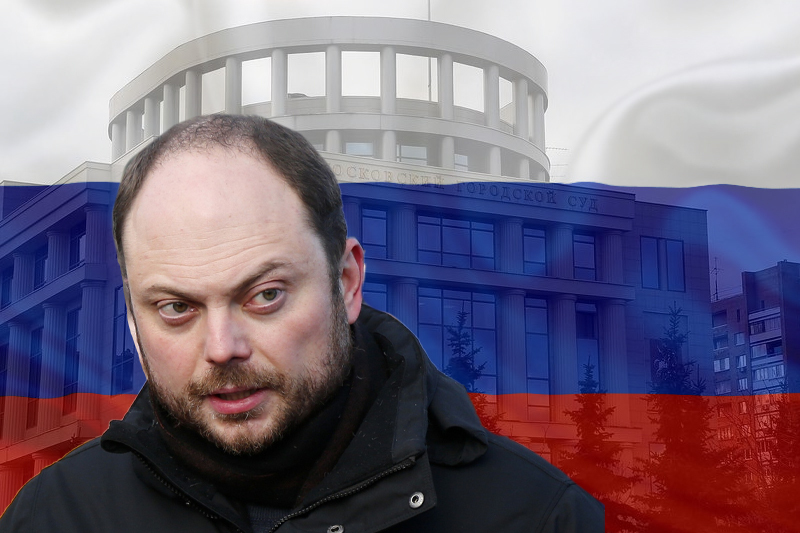 prominent kremlin critic is sentenced in russia
April 14, 2023, in Berlin: According to Human Rights Watch, the criminal trial against prominent Russian opposition politician Vladimir Kara-Murza is scheduled to end on April 17, 2023, according to Moscow City Court. The year-long arbitrary detention of Kara-Murza by Russian authorities, along with the arbitrary detention of other nonviolent civic and political activists, must end immediately.
On April 6, the prosecution requested a 25-year prison term for Kara-Murza on charges of treason, spreading "false information" about the behavior of the Russian Armed Forces, and affiliation with an "undesirable organization." The prosecutor claimed Kara-Murza was "an enemy and must be punished" and that the charges against him were combined. Even though the trial was held in secret, Kara-Murza's attorneys were permitted to speak to the media.
Hugh Williamson, director of Human Rights Watch's Europe and Central Asia division, said that Vladimir Kara-Murza was detained, prosecuted, and now faces a horrifying prison sentence for no reason other than speaking out against the Kremlin, its conflict in Ukraine, and it is escalating repression within Russia. "The Kremlin should be strongly denounced for its persecution of Kara-Murza, which is part of its campaign to demoralize and suppress civic activism."
Kara-Murza has long defended democratic principles and spoken out against the current Russian administration and the full-scale Russian invasion of Ukraine. He has addressed political gatherings in the United States, throughout Europe, and at numerous international and intergovernmental fora, including the United Nations.
He called for the imposition of sanctions on responsible Russian officials and was a leading supporter of the US Magnitsky Act, which outlines sanctions for human rights violators in Russia. The Magnitsky Act gave rise to the Global Magnitsky regime, which entails a specific sanctions regime for human rights violators all over the world. The Magnitsky Act was named after a Russian tax advisor who exposed a high-level corruption scheme and died after being wrongfully imprisoned and denied medical care. Additionally, Boris Nemtsov, a murdered opposition politician from Russia, had a close friendship with Kara-Murza.
On April 11, 2022, Kara-Murza was taken into custody on the fictitious suspicion of disseminating "false information" regarding the Russian Armed Forces. Russian authorities added the charges of membership in an "undesirable" foreign organization in August, and treason for his outspoken criticism of the Russian government in the international arena in October.
The accusations are based on numerous restrictive amendments to Russian laws that have been made over the past ten years, giving the authorities a wide range of provisions to use against those who legitimately engage in political speech or activism while criticizing the government.
Human Rights Watch stated that all accusations made against Kara-Murza are unfounded and amount to blatant persecution for his wholly peaceful exercise of free speech. Three judges were among the six people the US government designated for sanctions on March 3 as a result of their involvement in Kara-Murza's arbitrary detention.
Keep Reading
In prison, Kara-Murza's health has gotten worse. His attorney claimed that two severe poisonings he survived in 2015 and 2017 were the cause of his polyneuropathy, a condition that simultaneously affects multiple peripheral nerves, which prevented him from appearing in court in March. Since neither attempted murder has ever been looked into by Russian authorities, Bellingcat investigative journalists have reported that the poisonings were likely planned by the FSB.
Kara-Murza compared the prosecution's use of the word "enemy" to Stalin's Great Terror of the 1930s in his closing remarks to the court. He denied the charges against him and insisted that he stands by all of the statements that were used to incriminate him. Speaking out against the war in Ukraine, he told the court, "[F] or not only do I not repent of any of this, but I am also proud of it. fighting against Vladimir Putin's dictatorship for many years. for assisting in the Magnitsky Act's adoption of personal international sanctions against those who violate human rights.
He claimed to be aware of the outcome and described it as the cost of standing up for himself in Russia. He expressed optimism for the day when Russian society would "open its eyes" and be "horrified by the… crimes committed in its name." He claimed that would herald the start of Russia's recovery and reconstruction process and "its return to the community of civilized nations."
Evgenia Kara-Murza, Kara-Murza's wife, described his persecution as a form of retaliation and described his trial as being Kafkaesque, noting that his defense team was not allowed to present any witnesses. She referred to the threat of a 25-year prison sentence as an intimidation tactic against his family and all Russians who disagree with the Kremlin.
Williamson stated that the verdict would be "yet another outrageous miscarriage of justice against a peaceful political opponent of the Kremlin's regime" if the defendant were found guilty on any charges. "Those responsible for this abominable farce bear individual responsibility for their role in this flagrant denial of justice, and they should face additional sanction and punishment for their actions," the statement reads.