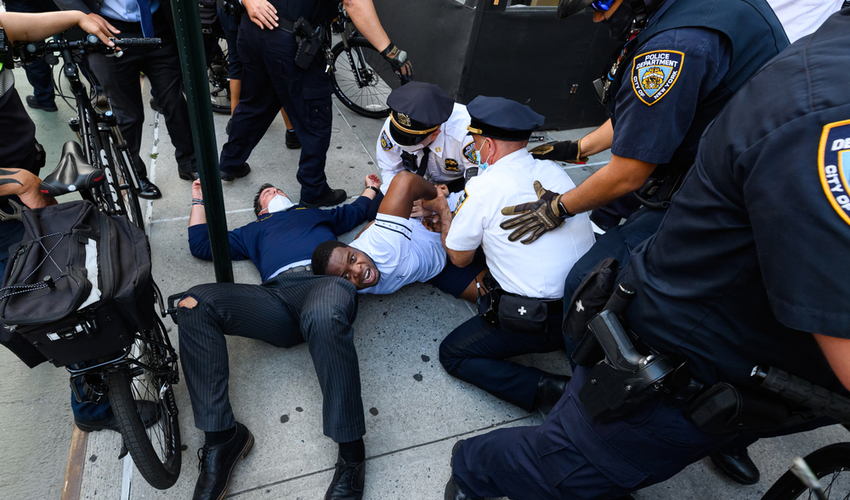 U.N. High Commissioner for Human Rights Michelle Bachelet denounced the killing of George Floyd by a police
U.N. High Commissioner for Human Rights Michelle Bachelet denounced the killing of George Floyd by a police officer in Powderhorn Park neighborhood of Minneapolis, Minnesota, United States. She expressed on Tuesday that the continuing protests in the United States are only the police brutality against people of color but highlights "endemic disparities".
A video which displayed a white cop forcefully kneeling on the neck of Floyd, and he was saying that he is unable to breathe. Floyd's death ignited protest all over the United States, and on Friday the cop was arrested and accused of third-degree murder.
As per UN authorities, the effect of Covid-19 on individuals of African origin and many ethnic minorities in certain nations seemed more distressing. People from racial and ethnic minorities are additionally found in higher numbers in certain jobs that are riskier amid the pandemic, e.g.; health and cleaning sectors. In addition, ironically, the coronavirus death rate for African Americans is reported to be more than other racial groups, Bachelet expressed.
President Donald Trump has stated many times that he is the least supremacist individual that you've ever encountered, though on the contrary he has long been criticized for his racist comments on twitter and press conferences where he has made bigotry statements.
On June 1, President Trump in a press conference on Monday was asked about how he felt about the police brutality on George Floyd, he responded by saying that he didn't like what he saw at all, it was a horrible thing. It is miserable from numerous points of view, particularly from the viewpoint of George Floyd's family. We additionally realize that the majority of the police are doing a great job, however, this was an awful insult to police and the police officers, he added.
Trump in another press briefing urged State Governors to use National Guard troops to control violence protest and looting. He cautioned if they failed to do so, then he would deploy the U.S. military "and rapidly solve the issue for them."
Nations around the world have condemned the incident especially Australia, France, and the Netherlands who took to streets against racism. Thousands of people did a peaceful march at Australia's biggest city reciting "I can't breathe." Many people protested in the Dutch capital of The Hague and hundreds marched in Tel Aviv too.
The social media was flooded with expressions of anger in multiple languages to condemn racism, with many speaking out under #BlackOutTuesday. In support, the United Nations High Commissioner for Human Rights, Michelle Bachelet asserted that the battle against the pandemic cannot be obtained if Governments ignore the glaring inequalities that exist. The attempts to handle coronavirus and to start reopening economies will be successful only when "people's right to health and life is guarded without discrimination.