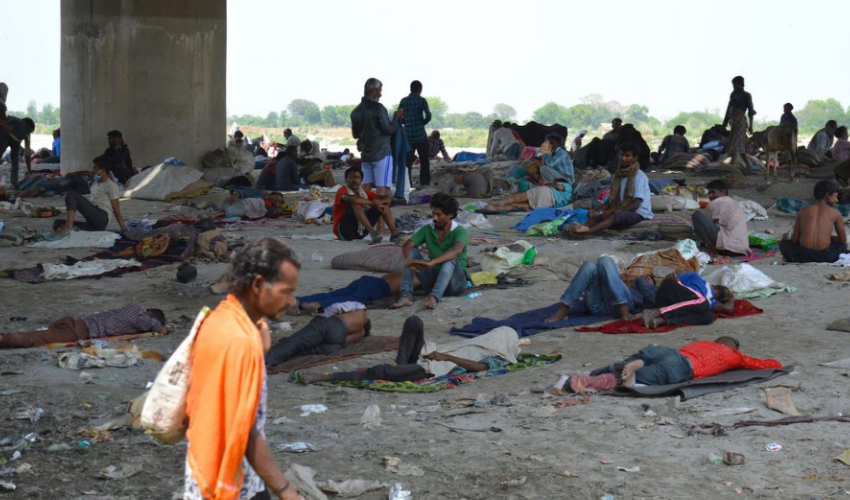 West Bengal government to open the border for migrant workers seeking entry from Nepal
Hundreds of Indian migrant workers have been stranded on India-Nepal border, in the wait to go home, but West Bengal government has shut its door on them. WB Chief Minister, Mamta Banerjee, who criticised the central government for not allotting the state enough funds to combat the coronavirus pandemic, has strictly ordered to seal its borders. West Bengal has not even opened the state border for its migrant workers stranded in different states in India, to avoid the spread of virus in the state.
According to media reports, Centre government, led by Narendra Modi, urged the West Bengal government to open the border for migrant workers seeking entry from Nepal, about a month ago. However, the WB government refused. The state government even blocked the entry trucks carrying foodgrain, oil and petrol from crossing the border.
WB CM, who on April 23 announced that "government of West Bengal will initiate every possible help to people of Bengal stuck in different parts of the country due to lockdown, in returning home", paid mere lip service to the announcement.
Many migrant workers stranded in Nepal, with limited resources to fund their stay, are dependent on local government for food and water. Besides, with no shelter to stay in, they are sleeping on road. Most of these Indian migrant workers belong to Bihar and West Bengal, who move to Nepal for few months (mainly from October to April) to work at brick kilns in Nepal's Jhapa district. These workers usually live near factories, which are closed to the lockdown.
Sunita Thakur (23), who hailed from West Bengal and worked in a brick kiln in Jhapa, told the Wire, "A Nepali local leader provided us with a meal last night, but there weren't beds available anywhere. I had no option but to spend the night at this bus park with friends. Everyone is hesitating to let us into their homes or hotels. We had hoped that we would be able to go back home, but now it seems like the lockdown is uncertain."
Bimal Acharya, mayor of Mechi Nagar municipality, said that they were helping the migrants with meals and water but providing them shelter was 'impossible' for the administration. "Yes, we know they are in trouble, they should be sent back to home. But in this situation we can't provide bed," said Acharya.
Nepali media reported that last week few young Indian migrants tired to cross the border without the authorities' permission, but were brought back to Nepal by Indian officials. Rajendra Pokharel, DSP of Jhapa district and chief police officer of the Kakadvitta border, said that they could not allow the workers to go home until the Indian government gave them permit for same. "We can't send them home from the border. The Indian police requested us not to, because of the lack of quarantine facilities," said Pokharel.