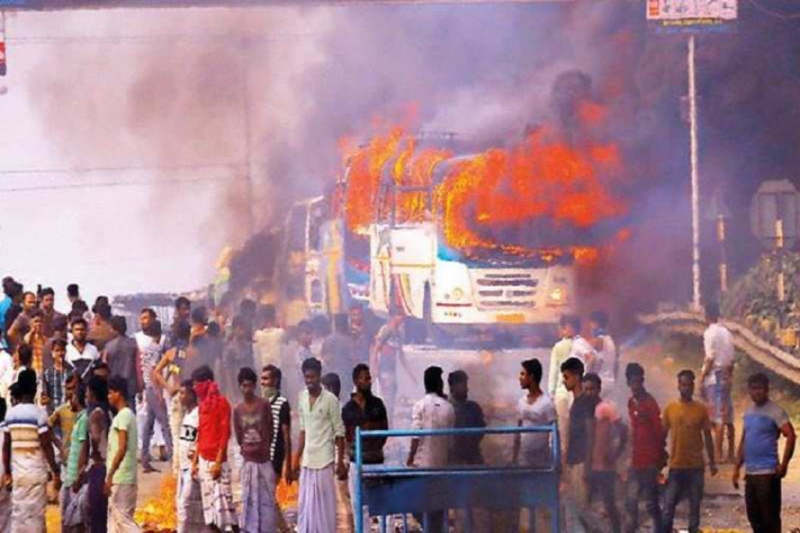 bengal violence
Last updated on May 8th, 2021 at 01:17 pm
The National Human Rights Commission (NHRC) Tuesday ordered its in-house investigation team to probe post-poll violence in several districts of West Bengal. The NHRC took suo motu cognizance of media reports regarding the death of some people during alleged violent clashes after the results of West Bengal Assembly Elections were announced on May 3.
"The political workers allegedly clashed with each other, party offices were torched down and some homes were ransacked & valuables also looted," the rights commission wrote in its statement.
The NHRC also called out District Administration and local Law and order enforcement agencies for failing to act to stop violation of human rights of the people affected by the violence. In the statement, the NHRC said it considered it a "fit case of alleged violation of Right to Life of the innocent citizens."
"The Commission has requested its DIG (Investigation) to constitute a team of the officers of the Investigation Division of the Commission to conduct an on the spot fact-finding investigation," the NHRC added.
The apex rights body has told the investigation team to submit the report at the earliest, preferably within two weeks.
The National Commission for Protection of Child Rights (NCPCR) has also written to the chief secretary of West Bengal, raising deep concerns over incidents of post-poll violence affecting children. In the letter, NCPCR called for an inquiry into the matter, noting that it received complaints concerning the safety and security of children in the state.
"Section 83(2) of Juvenile Justice Act, 2015 provides for punitive punishment for using children for illegal activities and requested that an inquiry must also be conducted with regard to children being made to participate in the violence," the letter read.
On Monday, the Union Home Minister sought a factual report from the West Bengal government over reports of alleged violence in the state.
"MHA has asked the West Bengal government for a report on the post-election violence targeting opposition political workers in the state," the ministry said on its Twitter handle.
Furthermore, Prime Minister Narendra Modi on Tuesday called West Bengal Governor Jagdeep Dhankar expressing concerns over "alarmingly worrisome law and order situation" in the state.
Hours after the West Bengal assembly election results were declared on Sunday, clashes broke out between BJP and Trinamool Congress workers in the state. As per media reports, the unprecedented violence had left several dead and many injured across various districts. BJP has alleged that TMC workers have vandalized party offices, ransacked houses, looted shops, and physically attacked female party members. TMC has denied all allegations. Meanwhile, Mamata Banerjee took oath as the chief minister of West Bengal for the third term on Wednesday. After taking the oath, she urged all political parties to maintain peace in the state.
Related Posts