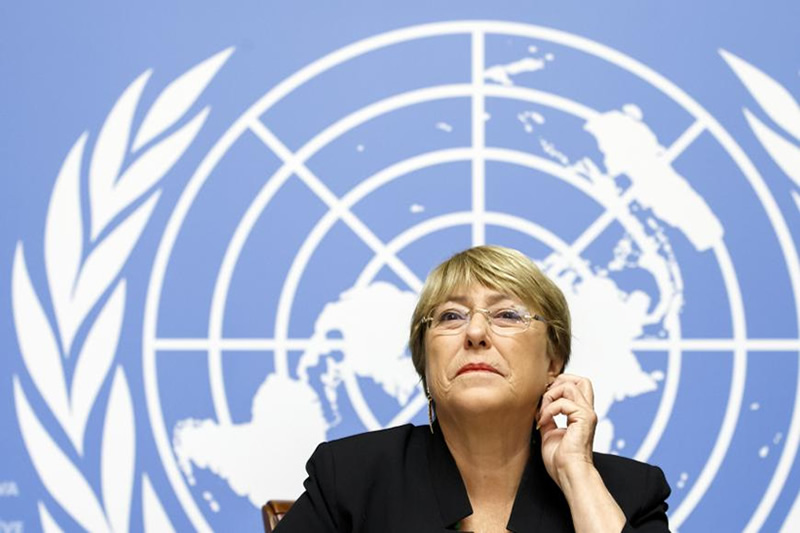 Michelle bachelet, UN High Commissioner of Human Rights
The Office of the United Nations High Commissioner for Human Rights (OHCHR) has released a new report that entails widespread human rights violations in Myanmar at the hands of its military since February's coup, many of which equal to the war crimes or crimes against humanity. UN High Commissioner for Human Rights Michelle Bachelet issued a warning on Thursday that immediate action is required to prevent the Myanmar crisis rapidly escalating into a "full blown conflict".
The UN chief has called for more widespread action and active involvement of international community as Myanmar is spiraling into escalating violence that might lead to a widespread civil war. While addressing the Human Rights Council in Geneva, Bachelet noted that now Myanmar is witnessing more frequent clashes between civilians and junta in many areas "where conflict has not been seen in generations". Bachelet submitted the new report by her office to Council that includes details of serious human rights violations and breach of international humanitarian law in Myanmar by the country's military.
She further added that the Asian country is witnessing a "free fall in economy" exaggerated by Covid-19 pandemic. She highlighted that this is "a human rights catastrophe that shows no signs of abating".
Myanmar is currently fighting worst crisis with millions facing escalating food insecurity and poverty that is brought in by political unrest, widespread poverty and economic crisis, warned recent report by World Food Programme (WFP).
OHCHR report on Myanmar crisis
The report highlights that the Myanmar military has used heavy "lethal force and mass arrests" since February coup to violate majority of established human rights. The violated rights documented in report include rights to life, liberty and security of the person; the prohibition against torture; the right to a fair trial; and the rights to freedom of expression and peaceful assembly.
Related Posts
The report has been prepared keeping into account interviews of over 70 victims and witnessed to these violations from February to mid July. Other resources include monitoring, credible open sources and meetings with informed stakeholders.
Ms. Bachelet said "There is no sign of any efforts by the military authorities to stop these violations nor implement previous recommendations to tackle impunity and security sector reform."
"The national consequences are terrible and tragic, and the regional consequences could also be profound," Bachelet highlighted. Since the February coup, over 1,120 people in the country have been killed. More than 8000 people have been arrested by the military and 120 have reportedly died while in custody.