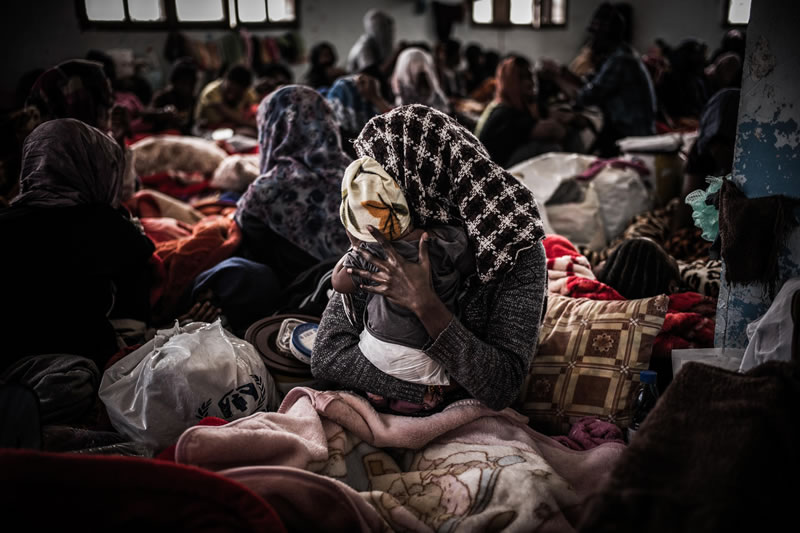 4000 migrants detained in Libya

Libya – Libya is witnessing one of the worst migrant crackdowns in history as hundreds of women, children have been detained in the country. On Saturday, reports revealed that several raids took place on October 1 in the Western town of Gargaresh.
As per the raid officials and the Libya administration, this was executed as a part of the security campaign against immigrants who entered the borders through illegal migrants. There have been many arrests and the recent ones show the number to be 4,000 but despite that the Interior Ministry did not confirm any such detention.
The raids have been ordered by the Interior Ministry and now it has completely hidden itself from taking the responsibility. Till now the officials have only hunted at 500 such raids but the recent reports have shown that the numbers exceed 5,000. The United Nations also confirmed that there have been outrageous actions against the migrants.
Not only one of the migrants was killed but another 15 of them were severely hurt, said the UN report. The report highlights that the issue is not about the security anymore as it is to do with the human rights situation in the country. A Libyan official from the UN humanitarian programme said that the migrants were harassed in their homes, beaten and shot.
It is not the first time that the country is facing a migrant crisis but the way they have been dealing with the situation over the past few months is excessively alarming. The officials were aware of the huge population of the migrants that live in Gargaresh region but despite that, they chose violence.
Related Posts
The area is spread over 12 km and is known as the hub of migrants and refugees. Libya has been extremely strict towards migrants explosion but is not finding cooperative measures to use non-violence for this purpose. Even after the arrest, these emigrants are subjected to ill-treatment and harsh abuses.
"Migrants and refugees in Libya, particularly those without legal residency in the country, are often at risk of arbitrary detention," said Dax Roque, Libya's director of the Norwegian Refugee Council. The statement especially highlighted atrocities against children and women. Following an uproar, the migrants have been distributed to detention centres spread across Tripoli but the space is still not enough. Many are still left homeless and are surviving without resources.