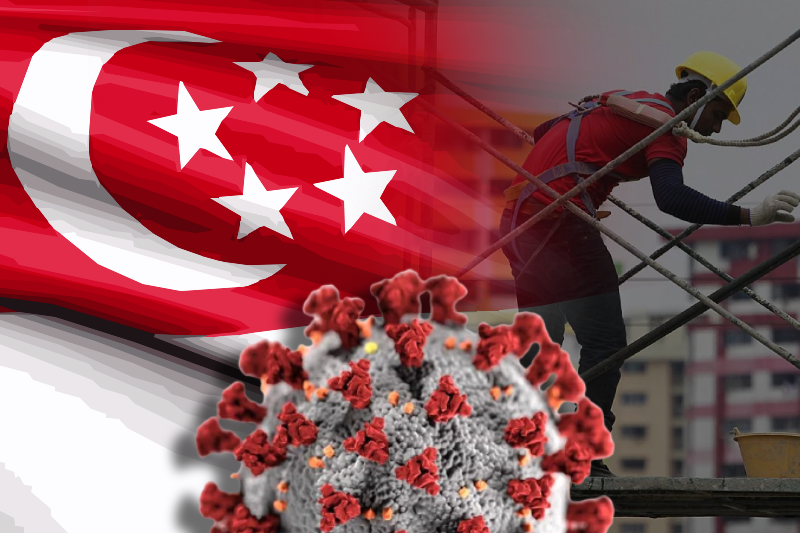 Singapore migrant workers looking for 'respite' from COVID-19 restrictions

Singapore – Singapore's foreign workers are desperate to get any respite from Covid-19 restrictions but the continuing pandemic continues to fuel their plight with confinements and protocols.
Since the pandemic struck, many foreign workers and migrant workers have not been able to visit their country and have to limit contact with general population and remain at dormitories while only going to workplace. However, some lucky ones like 32 year old Bangladeshi Sarker Dilip made a trip home last year in February before Singapore imposed travel restrictions. He shares, "I am lucky because I went home for 15 days to attend my brother's marriage and was able to come back to Singapore last March. But many people have not been able to go home for a long time and are still in Singapore and not able to move around."
Singapore boasts of vaccinating 82 per cent of its population with both the vaccines but despite of that recorded highest single day surge since pandemic onset, a whooping 2,236 new Covid-19 cases on Tuesday. 515 cases of these were recorded in dormitories inhabited by migrant workers. This month having recorded 30 deaths, Singapore authorities have re-imposed restrictions and cut down public gatherings to two people from five.
The times are difficult for foreign workers as the mental trauma is too big. Being away from families for over a year and kept down with strict protocols, for many only the memories of last trip back home is helping them sail through.
Sarker Dilip contracted the Covid-19 infection shortly after returning from Dhaka last year, but mild symptoms helped him recover without need of hospitalization. Working in Singapore since 2008, Dilip has a base salary of $1,030 per month but with overtime he manages to earn $1,700. He misses his wife and young daughter back in Dhaka, and unable to meet his friends makes days harder to pass. "For a long time, we cannot go out … just work and go back home … it's boring," he said. And this is despite being fully vaccinated.
Singapore has initiated a pilot program this month under which small group of foreign workers are taken by bus on supervised outings. 80 workers in one group are taken for four hour trips on Wednesday, Saturdays and Sundays to Little India district. But human rights activists are not happy with this move. "Instead of taking one step at a time, this is like taking one-10th of a step … at this rate, it would take 12 years to get all of Singapore's foreign workers out for a day trip," said Alex Au, vice-president of rights group Transient Workers Count Too (TWC2).
"As much as Singaporean grandmothers and aunties, migrant workers should be allowed to go out and shop and enjoy the same freedoms as everyone else. The state unfairly sees migrant workers as a threat," he adds.
Related Posts
There is a sense of "hopelessness" over situation among the foreign workers, says Michael Cheah, the executive director of HealthServe – a non-profit group providing subsidized health care to migrant workers. 2020 has witnessed surge in suicides among migrant workers as compared to 2019. "While in this year of the pandemic they can work again, they can't go back home to see their loved ones, so we're seeing a lot of family issues, with broken marriages and broken relationships."
Isolation and being neglected has led to increased mental stress. Clinical psychologist Annabelle Chow said, "Prolonged isolation in their dormitories and the limited avenues of social interaction might further perpetuate the stress and helplessness foreign workers experience." Christine Amour-Levar, founder of non-profit organisation Woman on a Mission and HER Planet Earth, underlines this has caused increased cases of depression and anxiety in workers. "I really hope we can work towards integrating them more into our society and show them the compassion, gratitude and respect they so deserve."
No matter the hardships, Sarker shares thoughts of many workers that they are grateful to Singapore for providing them with employment.