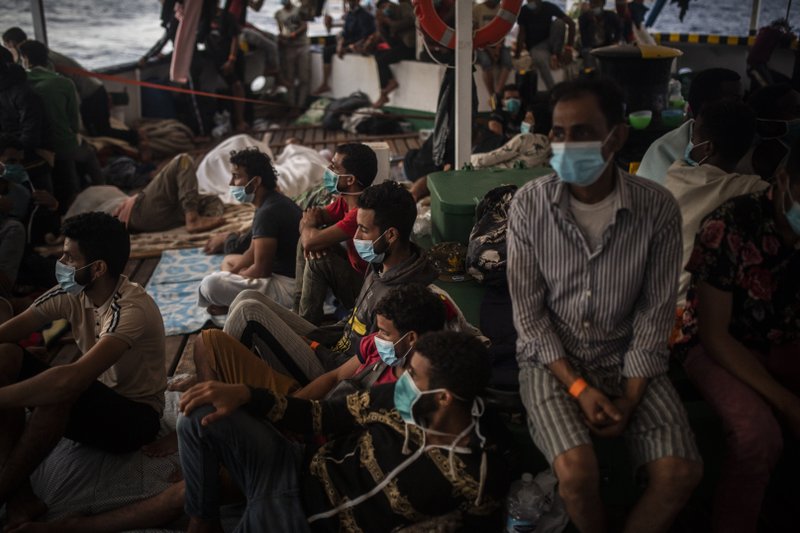 libya migrants
On Sunday, the International Organisation of Migration (IOM) reported that about 350 migrants were rescued from the captivity of human traffickers by the authorities in Libya. IOM said that the victims 351 migrants –  including 189 men, 145 children, and 17 women – were rescued from a secret prison in southeast Libya. The UN migration agency's spokesperson Safa Msehli said that the medical reports of the jailed migrants revealed that some of them were "malnourished and in need of health assistance as much experienced abuse".
Msehli said that once freed, the migrants were provided basic health assistance, and were later sent to the detention center in Kufra, where they were given food, clothes, and blankets. She added, "This highlights once more the need to prosecute criminal groups that are taking advantage of the vulnerabilities of migrants and exploiting them. We also maintain that alternatives to detention must be found to provide safeguards for people."
According to the Kufra Security Bureau, the authorities raided the place where human traffickers had held the migrants after one of the captives managed to escape the house-turned-prison last week. He reached out to the authorities and told them about the plight of other migrants who were kidnapped and tortured by the traffickers. The bureau reported that the security forces held six traffickers and forwarded their names to prosecutors for further investigation.
Msehli told reporters that most of the migrants, who were held belonged to Eritrea and Sudan while about 60 of them were from Somalia and Chad. The North African country has a track record of exhibiting horrible treatment to its migrants most of whom are left at the mercy of armed groups and kept in dingy detention centers without an adequate supply of food and water.
Last September, the authorities discovered that an armed group had held about 60 migrants, out of which 24 were children. According to Doctors Without Borders (MSF), they were kept in "appalling living conditions." In October 2020, IOM and UNHCR reported that about 3200 migrants were held in eleven detention centres in Libya. IOM added that about 3,600 migrants, including around 190 children, had been intercepted and returned to Libya since the beginning of the year.
An AP investigation conducted in 2019, that "militias in Libya tortured, extorted and otherwise abused migrants for ransoms in detention centers under the nose of the UN, often in compounds that receive millions in European money, paid to Libya's government to slow the tide of migrants crossing the Mediterranean."
In its recent report, published on Monday, AP said, "Like previous ones, those migrants were taken to squalid detention centers in and around Tripoli. Thousands of migrants have already been confined in these centers, mostly run by militias linked to authorities in Tripoli."
The UN migration and refugee agencies, IOM and UNHCR have repeatedly raised serious concerns over the plight of migrants in Libya, demanding for an "urgent and measurable shift in the approach" in the Mediterranean, including an immediate halt of the return of migrants to "unsafe" Libya.