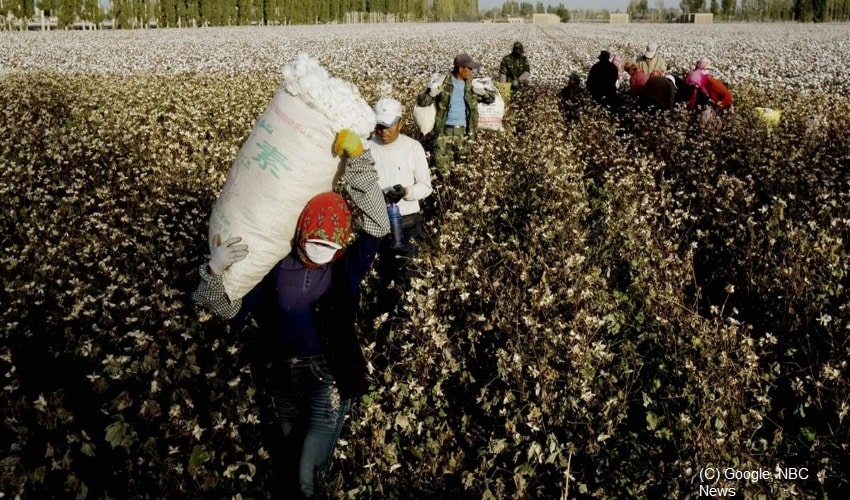 Ethnic minority groups in Xinjiang are being forced into forced labour on the cotton farms in China.
Ethnic minority groups in Xinjiang are being forced into forced labour on the cotton farms in China. It is a more predominant problem that has been going unnoticed for the longest time. The Xinjiang region is known to produce 20percent of the cotton-consumed world over and almost 84% for China itself.
A detailed report has confirmed by the Center for Global Policy confirms that indeed, there is gross human negligence and labour law violation at play in the cotton farms of Xinjiang. The most brutally victimized are the Uighur and other Turkic Muslim minority people.
Where does your cotton come from? Has it been produced by the forced labour of Uighur and other minority groups in China's Xinjiang region? https://t.co/zsHxcOmrSc

— Nick Grono (@NickGrono) December 15, 2020
The revelations came as the international criminal court (ICC) said it did not have the jurisdiction to investigate allegations of crimes against humanity and genocide in Xinjiang.
At play is also wrongful usage of the labour transfer scheme under whose guise, the government has actually allowed to coerce the torture and forced labour from Uighur and other Muslim minorities in Xinjiang. Earlier on, US had sanctioned China for violation of labour rights in the production of cotton. The import sanctions were focused on Xinjiang Production and Construction Corps (XPCC). But according to CGP report, it is recommended that the US government expand its import restrictions to cover all Xinjiang cotton, not just that produced by XPCC regions.
Strangely, despite the use of mechanized harvesting in XPCC regions, worker numbers from minority groups have not gone down. Mechanized harvesting did increase to around 83 percent but it does not eliminate manual picking completely. The latter still remains prevalent in areas in the south of Xinjiang that produce a far larger share of the cotton.
Additionally, while the number of workers brought in from other provinces for the harvest season had dropped in the previous years, the report found the proportion of local ethnic minority labourers had increased dramatically. It estimated 570,000 people came through three minority-laden prefectures alone. These include Aksu, Hotan, and Kashgar. In addition, labor programs in other ethnic minority regions as well as prison labor have already added up hundreds of thousands to this figure.