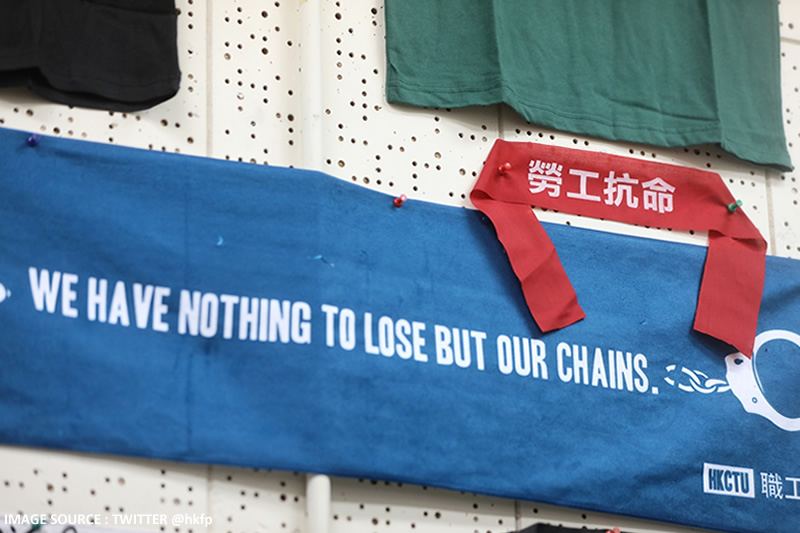 Hong Kong Pro Democracy alliance ends

Hong Kong – Continuing to fight for democracy to prevail in Hong Kong, the various groups who came together to form an alliance against Chinese control have announced their separation. On Sunday, the labour union announced their plans to disband due to the threat to the life of their leaders.
This is the largest pro-democracy labor coalition of the country and with this decision a very strong representation of the pro-democracy movement has come to an end. According to the coalition, China has imposed a sweeping clampdown on dissent for the public in the city and that threatens the lives of the leaders.
Labour Unions are the primary community to suffer due to the impositions made by China. The Confederation of Trade Unions have been fighting for labour rights as well as the democratic establishment in the city, which is also one of the most over workers and income polarised cities. But with the acceptance of the new national security law, their efforts have gone into vain.
The chairman of the alliance, Wong Nai-yuen, also confirmed the dissolution of the union saying that they left the fate into a voting practice two weeks ago and finally they concluded to dissolve.
"If the authorities focus only on eliminating people who raise questions instead of solving the problems, they might feel powerful for a while but this country and this place won't have any hopeful future," Wong said
With this, Wong also highlighted that China's steps towards Hong Kong has left all the hopes of the labour community left in sidelines.
Related Posts
The claims of the union to disband have not come as a surprise after the former chief organiser Mung Siu-tat decided to resign from the post and flee from the city. However, all the members of the union asserted that they do not regret walking alongside the workers and giving them all the help they need.
There has been a very strong media campaign against the labour union where the state owned media groups and pro-China outlets have published numerous articles claiming the union to have an agreement or connection with a 'foreign agent'. Under the imposed law, this charge can lead to life imprisonment and hence, threatening the existence of the members. With the announcement, CTU has joined the list of 50 other civil society groups which have disbanded law last year.