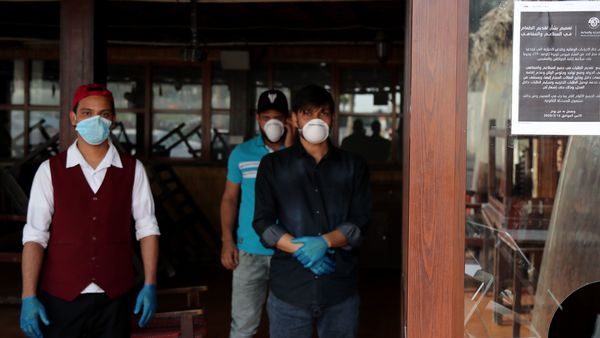 (C)LiveMint
The corona virus situation is making migrant workers extremely insecure about their future work prospects. This is particularly a trend in the middle eastern nations that employ migrant working force in huge numbers.
After Saudi Arabia, the UAE hosts the Gulf's second largest migrant labour force of more than 8.7 million, followed by Kuwait with 2.8 million. Qatar has a huge migrant force which is used in the construction industry for short term projects, like the completing of their various stadium facilities towards the 2022 World Cup. In fact, official statistics reveal that 90 percent of Qatar's 2.75 million people is made up of expats itself.
Most of these nations are now forced on the state of lockdown and are therefore in a process of cutting down jobs too. This has created a fear of uncertainty in the minds of migrant work force. In some cases, salaries are being withheld, and deportation or confinement is becoming a norm as social distancing becomes mandatory to keep the virus from spreading.
Ten and thousands of workers are in a lockdown situation, stranded in foreign lands with access to minimal food being provided by the local authorities. However, a sense of unrest and fear reigns supreme in their minds and hearts.
According to advocacy groups including Human Rights Watch (HRW) and Amnesty, cramped accommodation and inadequate sanitation endanger migrant workers across the Gulf, who may not have access to healthcare.
Workers "trapped in camps" are particularly vulnerable, enduring conditions that make social distancing impossible. The story of migrant force working in countries like Qatar has been in news many times. Under a labour governance system for migrant workers in the Gulf, they continue to stand at a position of disadvantage. According to the system, employers hold excessive powers over migrant workers and this has let abuse and exploitation go unchecked. In Saudi Arabia for example, funds given to the private sector is not reaching the workers.  While the owners sit in quarantined conditions, workers are being forced to continue to work, or stay home if they fell unwell, without pay. Most funds are being utilized by top brass, to buffer the loss to their businesses only.
Currently Qatar is following strict sanitization rules. While they pledge to give away pending salaries, their attitude of holding back money and passports of migrant workers is not new. Recently, they have deported at least 20 Nepalese migrant labourers for ignoring containment rules. Back home, Kathmandu is not receiving them back. But the question remains, how long will Middle Eastern nations take care of its migrant population while their economies are on the verge of collapse? No for too long, it is estimated.