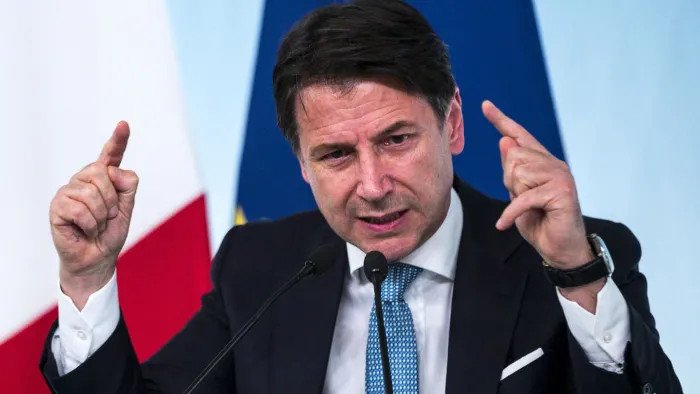 (C)Financial Times
In Italy there are 147.577 registered cases of the new coronavirus so far, with 3.921 new cases registered only yesterday and 18.849 confirmed deaths. Restrictive measures to curb the spread of the virus is bringing the Italian economy to its knees, so Prime Minister Giuseppe Conte has established bonuses and economic aid to support companies, workers and families in difficulty. Italy, through its national institute of providence (INPS) will provide a voucher of 600 euros for employees and 1,000 euros vouchers for healthcare and technical staff, such as doctors, nurses, biomedical laboratory technicians, medical radiology and socio-health workers.
Large families can request the 2020 Family Card, a discount pass introduced by the 2016 Italian Stability Law, in the form of a shopping card, which allows Italian people to obtain many discounts and reductions on a range of goods and services that can be purchased in shops and exhibiting activities. As mentioned, it is used to help large families with at least 3 children. The Coronavirus emergency, however, has expanded its audience of beneficiaries. This Card is digital and can be used both in affiliated physical stores and for online purchases. At this link you can search for affiliated stores.
Another aid conceived by the Italian Government to help families in difficulty in times of emergency Coronavirus, is the spending bonus, introduced with an allocation of funds to the Municipalities – not without controversy for the small amount of the sum of 400 million euros – which they will directly manage the delivery of the voucher to needy families. Among the many bonuses introduced in this phase of health and social emergency, there is also the babysitter voucher, to be used as an alternative to parental leave, by parents who cannot stay home from work and have to pay someone who looks after the children.
To help working parents struggling with the closure of schools and with their children at home, special parental leave has been introduced, which adds to the normal parental bonus provided for by the Italian system a 15-day absence from work public and private employees, with children up to 12 years of age, for all public and private workers. For this type of permission, an allowance equal to 50% of the salary is recognized, and these extraordinary periods of absence from work are covered by notional contributions. Those Italian families with children between 12 and 16 years of age will instead be able to take advantage of the extraordinary 15-day permission without contribution and without remuneration.
The 16 March 2020 Decree approved by Giuseppe Conte, to deal with the Coronavirus emergency, has extended the number of special workers permits, called permits 104 for the Law which introduced them the first time, at least for the month of March and April. Permits 104 go up to 12 days for March and April, instead of 3: within 2 months therefore 12 days of permits can be requested, plus the normal 3 days per month: total 18 days overall.
Finally, from April 1st, amid a thousand technical problems of the INPS website, which has been overmastered and hacked, it is possible to apply for the Bonus € 600 autonomous and VAT, introduced to stem the impact of the Coronavirus emergency on pockets of self-employed workers, VAT holders, co.co.co, craftsmen, traders, seasonal workers. It is an allowance of 600 euros, not taxed, intended for these specific categories of workers, both self-employed and para-subordinated and subordinate workers, a one-off bonus, in the sense that it is currently paid only for the month of March 2020. It will however be almost certainly extended to April.