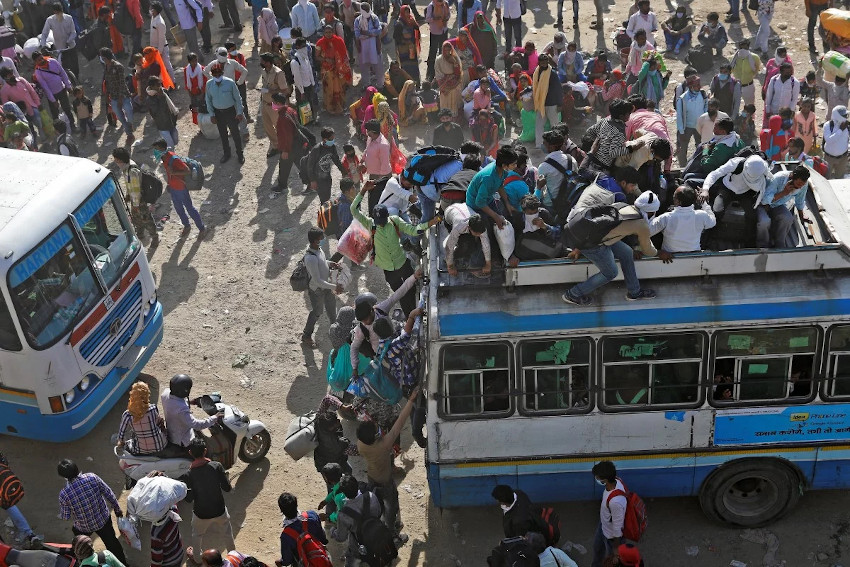 (C)SCMP
When the Government of India took measures to contain the virus from spreading at the end of March by ordering a 21-day nationwide lockdown, migrant laborers were one of those who were severely struck.
Prime Minister Narendra Modi had requested people to remain where they are for safety and to help control the virus from spreading. However, many laborers did not adhere to the guidelines and in anxiety decided to walk home or take busses to reach their hometown. Many got stranded near the border areas as all state borders got sealed, NDTV reported.
Migrant workers work in other cities and stay away from home to support their families. Many suffer from anxiety, depression, and loneliness due to many years of separation from loved ones. According to mental health experts, many under such circumstances often get dependent on tobacco, alcohol, smoking weed, and many other abusive substances.
Daily wagers do not earn enough money to save, and amidst that, to face a catastrophe like a coronavirus is a complete shock to the poor and needy workers.
The state governments have made arrangements for migrant workers in various states to help shelter migrant workers and provide food, despite that few countries are facing migrant issues.
According to NDTV, On April 10, in Kashmere Gate, Delhi, there was a report of a fight between laborers during food distribution, when they were asked to keep distance by a staff. After the incident, five men jumped into the Yamuna. Four came out of the river after a while, and one went missing, his body was found later found on Saturday by people living in the shelter homes.
On April 12, three shelter homes were set on fire in Kashmere gate by few angry migrant workers. They were demanding action against the staff over the death of a migrant who drowned in the river Yamuna. Police have arrested six people and further investigation in on, as per India Today.
There was another incident in Surat, Gujarat, where angry migrant workers on Friday evening defied lockdown measures, vandalized and set fire to public property. According to reports, they were demanding salary, food, and also desired to go home.
According to psychiatrists and mental health experts,this is the first time that people are stranded amid novel coronavirus pandemic, which has dramatically impacted the mental health of the migrant workers.The aftermaths of lockdown on migrant workers are anger, rage, discomfort, agony, joblessness, fear, and anxiety, which are common symptoms during this difficult time.
According to Times of India, as per the Supreme Court directives, the state of Uttar Pradesh is taking help from psychiatrists and clinical psychologists to counsel distressed migrant workers.