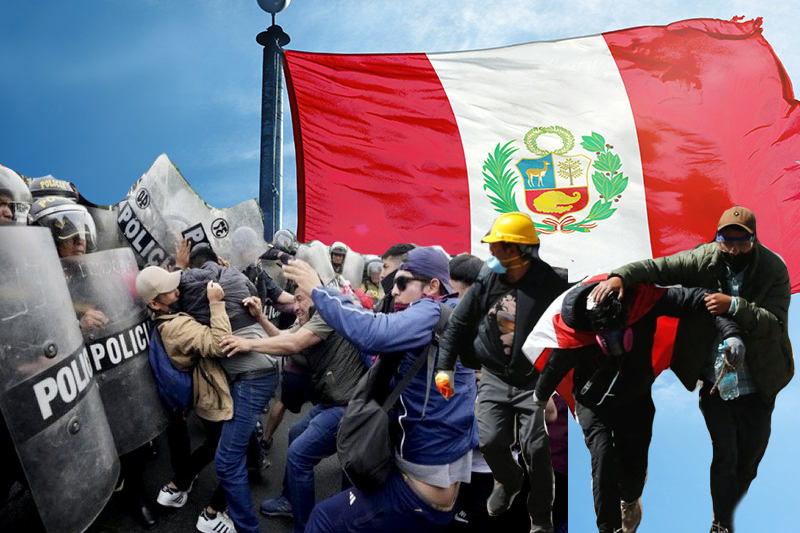 'countrywide chaos' in peru, more than 50 injured details here
LIMA: As we see, Peru is facing nationwide protests for the past few months. Protests escalated again this Friday night and several protesters suffered multiple injuries amid clashes with police. More than 50 Protesters were injured in this anti-government protest in Peru.
Many ground reports and TV footage showed the harsh condition of Lima- the capital city. To suppress the protest the police officers used tear gas. There was a fire burst on the road and protesters were throwing stones and glass bottles.
Vicente Romero the Interior Minister said that over 1500 protesters attacked a police station and fired. They said this happened in the southern Puno region of Peru.
As per reports from hospitals and media sources, around 58 people were admitted to the hospitals after suffering multiple injuries like leg, hand, arm, and eye injuries, etc.
The sharp jump in protests happened on Friday following a decision by President Dina Boluaarte. On Thursday he said he would take tougher action after historic buildings were torched in the capital, Lima. Let us tell you that due to the protest, a fire broke out in the monumental property, however, the officials are probing the matter to confirm the cause.
Keep Reading
Though the interior minister Romero said that the fire on that monumental building was duly planned and organized.
A large number of people demanding change from the government in Peru had lost their breath and by the official numbers 45 had died till now.
By seeing the upraise in protest and the number of protesters, the government has reduced some of the civil rights and implemented emergency to over six regions of the country. But the government is not ready to hear the voices.
Boluaarte the president is not in the mood to resign or any new fresh elections, they said that they will take action against protesters and will punish them.
Meanwhile, human rights groups have claimed that the police and military are using lethal firearms. This is a serious violation of the rights of the citizens, but the police refute all these claims by saying that they are only using homemade weapons.