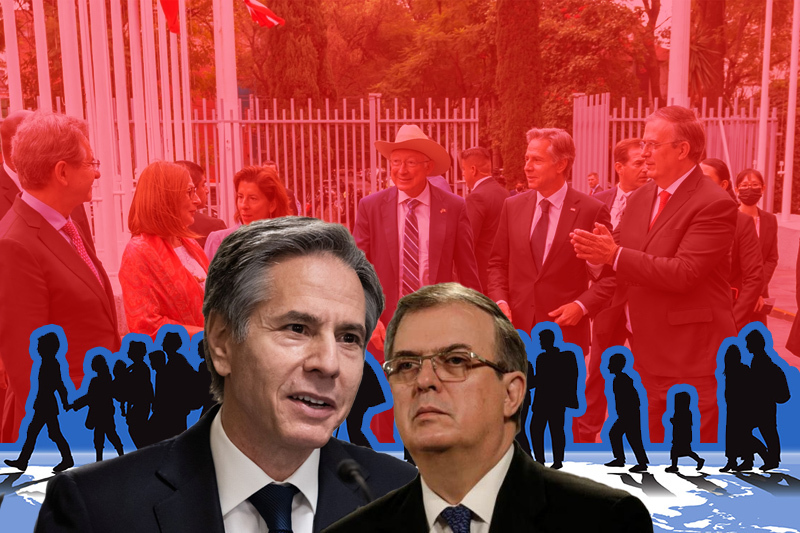 blinken discusses trade, migration with mexican counterpart
US – The U.S. State Department said in a statement Monday that Blinken noted "endless appreciation for working with Mexico" in his discussions with Mexican Foreign Minister Marcelo Ebrard.
US Secretary of State Anthony Blinken discussed "issues of mutual interest" with his Mexican counterpart, including drug trafficking, migration and trade, while senior officials from the two countries met for high-level economic talks in Mexico City.
"They also discussed regional efforts to support the people of Haiti as well Mexico and the United States's continued cooperation to create a more effective United Nations," US State Department spokesman Ned Price said in a statement.
Blinken was joined by U.S. Commerce Secretary Gina Raimondo and other Biden administration officials on a trip to the Mexican capital to attend this year's U.S.-Mexico High-Level Economic Dialogue.
"Last year, our two presidents agreed to relaunch the high-level economic dialogue. They recognized together that a strong US-Mexico relationship was vital," Blinken said during the talks.
Mexican President Andrés Manuel López Obrador issued a conciliatory note earlier in the day over a serious dispute with the US over Mexico's energy policy, saying Washington had become more respectful of his position.
In July, a US trade representative demanded settlement talks with Mexico, saying Lopez Obrador's push for tighter government control of the energy market was unfair to US companies and likely violated a regional trade agreement.
Keep Reading
The US Energy Complaint, which Canada immediately joined in, is arguably the most serious dispute to arise under the US-Mexico-Canada Agreement (USMCA) since the North American Trade Deal went into effect in 2020.
If this is not resolved, analysts say it could lead to high trade tariffs against Mexico.
Ebrard, Mexico's foreign minister, said Monday's talks were very productive and that Mexico was invited to join US efforts to boost semiconductor manufacturing and electric mobility in North America.
Ebrard added that the energy dispute was not at the center of Monday's agenda and that it made up "no more than 5 percent" of conversations at the presidential palace.