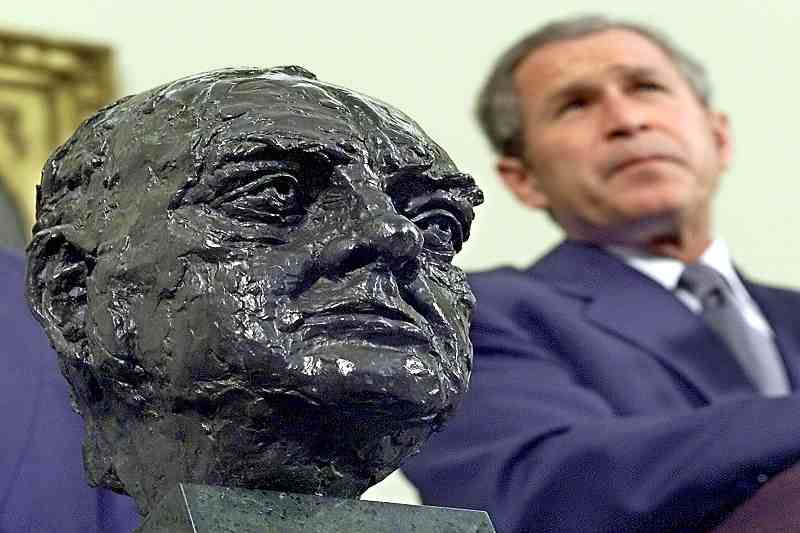 Churchill's bust
Regarding the recent controversy over the removal of the UK's former Prime Minister Winston Churchill's bust from Biden's Oval Office, the United States Embassy in London responded that the excellent relationship the two nations share is more than "simply a bust." 
In Friday's tweet, the consulate shared a video featuring the remarkable relationship that both nations share. The video expresses that Churchill's bust in the Oval Office is one of the several busts of presidents, including former President Donald Trump, is only a bust. 
The video highlighted the strong relations between the two countries and that they are the biggest financial investors in each other's nations. The "special relationship is about peoples, value, and trust," the video caption stated.
The video showed pictures of both American and British soldiers standing next to each other, and various other former presidents shaking hands and greeting each other, including former President Obama with UK's former PM David Cameron.
The United States and the United Kingdom since WWI have maintained a special relationship. During WWII, Churchill and former US President Franklin Delano Roosevelt together defeated Germany.
The U.S. Consulate's tweet tended to the controversy after Biden removed Churchill's bust from the Oval Office during redecoration. Biden has put up civil rights leader Martin Luther King Jr. and Latino civil rights activist Caesar Chavez bust instead.
In response, Downing Street said it's up to US president Joe Biden how he wishes to decorates his office. Boris Johnson's official representative stated, "The Oval Office is Biden's private office, and it entirely depends on the president to decorate as per his desires." Though, numerous British tabloids described the removal of Churchill's bust as a snub.
However, Johnson expresses a relaxed attitude about the controversy in comparison to his past criticism of former President Barack Obama, when he moved Churchill's bust from the Oval Office.
After Brexit, the UK prime minister is keen to strike a solid relationship with the newly elected US president Joe Biden, as both leaders are expected to meet in the upcoming G7 Summit in Cornwall in June, The Guardian reported.