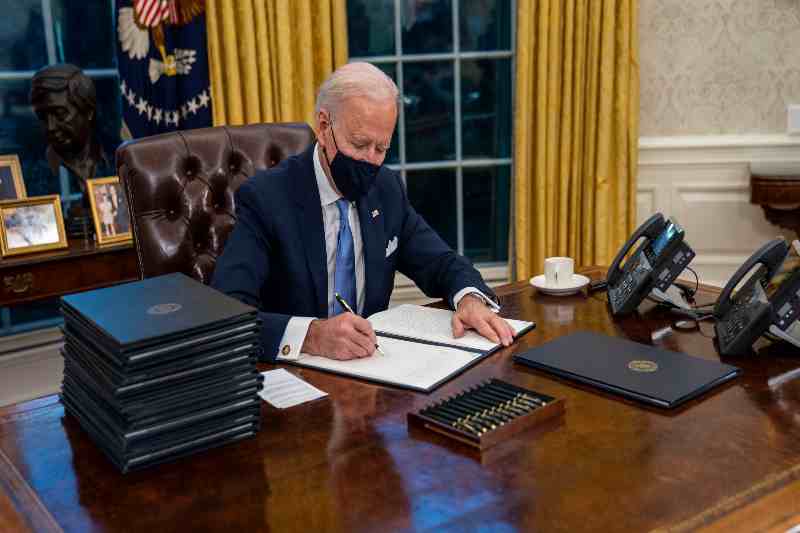 biden
US President Biden has sent immigration reform bill to Congress with aim of modernising the system
On his first day in the White House, US President Joe Biden signed an executive order, introducing legislation to improve the immigration system of the country. Among various overhauls, the legislation proposes the legalization of the status of millions of undocumented immigrants and other groups in the United States. 
With the reforms introduced under the US Citizenship Act of 2021, millions of immigrants will be able to gain citizenship with a speedy process of issuance of green cards. Deferred Action for Childhood Arrivals (DACA) or Dreamers, temporary protected status holders, and immigrant farmworkers would be eligible for green cards after meeting necessary requirements such as background checks and paying taxes. Undocumented immigrants would be able to apply for temporary legal status and green cards after five years after passing checks. 
On January 21, the new President also signed an executive order to ensure science-based guidance to reduce the risk of contracting COVID-19 at the workplace in order to provide a safer working environment to workers. Under the legislation, safe and legal channels will be provided to workers seeking labour protection. In addition to this, workers will be protected from all forms of exploitation by strengthening the employment verification process to include protections for migrants and seasonal workers.
Diversity Visas or the green card lottery has been increased from 55,000 to 80,000, with the objective of diversifying the immigrant population in the country. US President Biden also withdrew a number of immigration policies issued by the Trump administration, including the H-2A program.
"The US Citizenship Act modernizes our immigration system. It provides hard-working people who have enriched our communities and lived here for decades an opportunity to earn citizenship," said White House Press Secretary Jen Psaki during a news conference.
Higher wages and incentives have been proposed for workers with H-1B non-immigrant visas in the bill. This measure would benefit thousands of IT professionals who are working in the US after moving from Europe, Asia, and other parts of the world.
The new legislation has been hailed as a welcome move towards protecting millions of undocumented workers and Dreamers by providing them with necessary facilities. The immigration reform bill was sent to Congress for approval on Thursday. However, media reports have suggested that it can face some opposition from Republicans in Congress and the Senate.