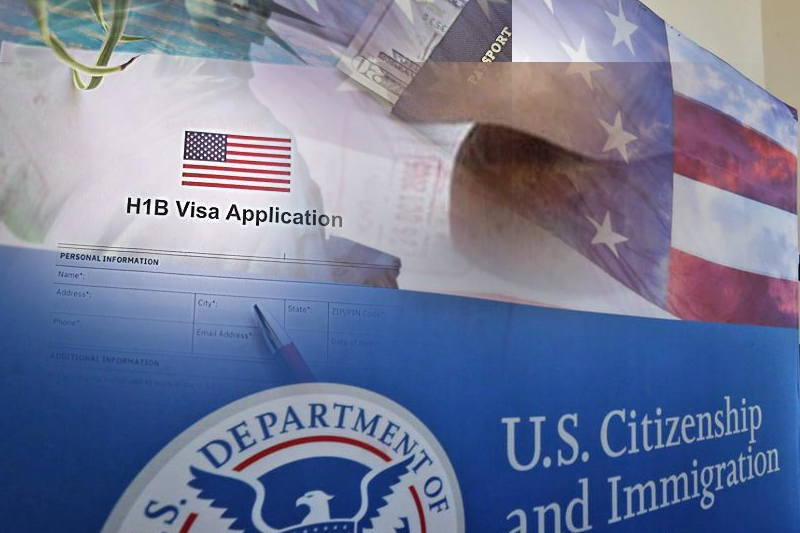 u.s. panel recommends extending the grace period for h1 b workers to 180 days
Washington, A US panel has recommended that the federal government extend the grace period for H1-B workers who have lost their jobs from 60 days to 180 days, giving workers enough time to find new jobs or other alternatives.
A U.S. panel suggests extending the grace period for H1-B workers to 180 days.
On Tuesday the President's Advisory Commission on Asian Americans Mr. Ajay Jain Bhutoria , Native Hawaiians, and Pacific Islanders said that "The immigration subcommittee recommends that the Department of Homeland Security and US Citizenship and Immigration Services (USCIS) increase the grace period for H1-B workers who have lost their jobs from 60 to 180 days,"
Bhutoria emphasized the significant challenges that H1-B workers who have been laid off face in his presentation. According to him, the current 60-day grace period presents numerous challenges, such as finding a new job in a short period, completing complex paperwork for transferring H1-B status, and experiencing delays in processing at USCIS.
As a result, he told members of the advisory commission, many H1-B workers are forced to leave the country, potentially costing the US skilled labor. In his presentation, Bhutoria argued strongly for an extension of the grace period, citing the need to support highly skilled tech workers, whom he described as critical to the US economy's growth. According to him, the extension would also provide affected employees with additional time to navigate the complex and time-consuming process of finding new job opportunities and transferring their H1-B status.
Keep Reading
In recognition of the importance of supporting and retaining highly skilled tech employees, members of the commission supported the move. Is it beneficial to be a member of the team?
When H1-B visa holders lose their jobs, serious consequences follow in the form of a script to the people. If they do not comply within 60 days, they are considered to violate the terms of their non-immigrant visa.
However, if a new employer files a new H1-B petition for the visa holder within 60 days of the previous employer's termination, the change of employer petition is usually approved, even if the employee's H1-B status was interrupted. It is difficult for H1-B workers to complete all requirements for maintaining their status within the 60-day grace period due to numerous roadblocks. He believes that the job market can be difficult, particularly for workers in specialized fields.
Before a candidate is offered a job, tech companies typically conduct four to five rounds of interviews. Even if an H1-B worker finds a new job within 60 days, the process of transferring their H1-B status can be time-consuming and complicated due to the extensive paperwork.
Additionally, due to USCIS delays, this process may take more than 60 days to complete. This could cost the US skilled labor because these workers may be unable to return unless they obtain a new H1-B visa, which could take years.
According to Bhutoria, it is only a matter of time before the companies' economies transition from a few months of the slowdown to a boom period, resulting in a significant increase in commercial activities and new opportunities for highly skilled tech employees to support economic growth.