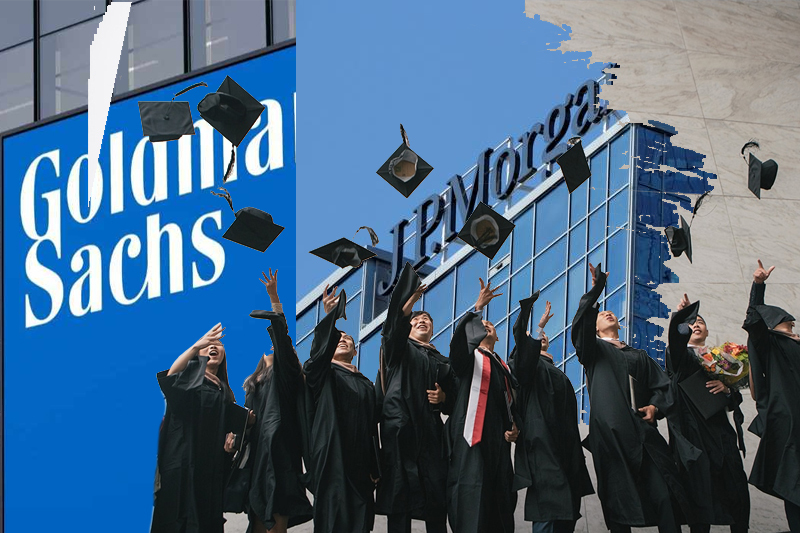 top 10 financial services companies in the world
One of the most important and influential sectors of the economy is the financial services sector, which provides financial services to individuals and businesses.
Globally, the financial sector is the backbone of economies.
It includes commercial banks, insurance companies, non-banking financial companies (NBFCs), co-operatives, pension funds, mutual funds, and other small finance companies.
As a result, a strong financial services sector contributes to economic growth, implying that firms and entities in this industry are better able to manage risk.
Before going ahead with the names of the companies, you can also see how you can balance work and life with these companies. Companies that offer a better work life balance.
The Top 10 Financial Services Companies In The World, are listed here :
1.. The J.P. Morgan Chase Company
In more than 100 countries, J.P. Morgan provides financial services to the world's most prominent corporations, governments, and institutions. This is The oldest company in the USA, 200 years back.
A multinational investment bank and financial services company, JPMorgan Chase & Co. is headquartered in New York City and operates worldwide. With total assets of US$2.687 trillion, JPMorgan is the largest bank in the United States and the sixth-largest bank in the world ranked by S&P Global. In terms of market capitalization, it is also among the world's most reputable banks.
Fortune Magazine ranks it among the world's top 5 most attractive employers for business students.
2..The second is VISA Inc.
An American multinational financial services company, Visa Inc. The headquarter of the company is in Foster City, California, U.S.
Visa Inc. is a global payments technology company that supports the utilization of digital currency across consumers, businesses, banks, and governments worldwide. It helps in electronic funds transfer via Visa-branded credit cards, debit cards, and prepaid cards. Yet, it's not responsible for issuing cards, providing credit, or setting fees and rates for customers—these tasks are left to the financial institutions presenting Visa-branded payment products for their customer's credit, debit, prepaid, or cash access programs.
In more than 200 countries and territories, the company connects consumers, businesses, banks, and governments.
3.. The Bank of America Corporation
Bank of America Corporation is an American multinational investment bank and financial services company with headquarters in Charlotte and hubs in New York City, London, Hong Kong, Dallas, and Toronto.
After NationsBank acquired BankAmerica in 1998, Bank of America was formed in San Francisco. It is the second-largest banking institution in the United States, following JPMorgan Chase, and the ninth-largest financial services company in the world (as a result of its revenue). In close competition with Citigroup, Wells Fargo, and JPMorgan Chase, it services nearly 10.73% of all American bank deposits as part of the Big Four.
Commercial banking, wealth management, and investment banking are its principal financial services.
4.. The Industrial & Commercial Bank of China (ICBC)
As a limited company, ICBC was founded on January 1, 1984, as a state-owned commercial bank.
By total assets, ICBC was ranked the largest bank in the world in 2017 and 2018 (US$4027.44 billion). From 2012 to 2019, ICBC was ranked first in The Banker's Top 1000 World Banks ranking, as well as the largest public company listed on Forbes Global 2000 in 2019.
As a result of its continuous efforts and enduring development, the Bank is today regarded as one of the world's leading banks, with an exceptional customer base, a diverse business structure, and a strong innovative capability. Along with the Bank of China, Agricultural Bank of China, and China Construction Bank, ICBC is one of the 'Big Four' state-owned banks in China.
5.. Mastercard Inc.
Mastercard Incorporated is a financial services corporation headquartered in Purchase, New York, United States.
It processes payments between merchants' banks and card-issuing banks or credit unions of buyers who use "Mastercard" brand debit, credit, and prepaid cards, the core business of this company.
Keep Reading
For the period 1966-1969, Mastercard was known as Interbank, and for the period 1969-1979, it was known as Master Charge. As a response to the BankAmericard issued by Bank of America, which later became Visa Inc.'s credit card, it was formed as an alliance of regional bank card associations.
6.. The Bank of China
The Bank of China is well-known as one of the four major state-owned commercial banks in the country. Established in 1912, when the Republic of China was founded, it has managed to remain viable throughout its long history. Initially functioning as a central bank, international exchange bank, and specialized international trade bank, expansion eventually lead BOC to offer a full selection of traditional banking services like commercial and private banking, investment banking, foreign currency deposit and exchange services, asset management, insurance services, aircraft leasing, and other financial options. Moreover, this respected institution holds note-issuing privileges in Hong Kong and Macau.
One of the largest banks in the world in terms of assets, the Bank of China is China's most globalized bank, with a well-established network in over 57 countries.
7.. The Royal Bank of Canada
One of the world's leading diversified financial services companies, Royal Bank of Canada (RBC) was founded in 1864 and provides a wide range of products and services on a global scale, including personal and commercial banking, wealth management, insurance, investor services, and capital markets. Across Canada, the U.S., and 34 other countries, the Company serves 16 million clients.
Based on market capitalization, RBC is the 11th largest bank in the world and the 5th largest in North America. It is consistently recognized for its financial strength, market leadership, and philanthropic endeavors. For the second year in a row, RBC was named 'North American Retail Bank of the Year' by Retail Banker International, and it is also listed in Fortune's Top 5 Megabanks category.
8.. The PayPal Holdings Inc.
An American company headquartered in San Jose, CA, PayPal Holdings Inc was established in 1988 to develop a technology platform for digital payments. As a viable electronic alternative to traditional paper methods such as checks and money orders, the Company's platform is used to make payments for goods, as well as to transfer and withdraw funds.
The solutions PayPal Credit, Braintree, Venmo, Xoom, and Paydiant products are internationally available; they let customers and businesses receive money in over one hundred currencies and withdraw funds in fifty-six. Furthermore, users can hold a PayPal balance in twenty-five different currencies. This Corporation has undoubtedly been recognized for its model of business and even designated as one of Forbes' Top 100 Digital Companies and Most Valuable Brands on the global scale.
9.. The Allianz Group
Founded in 1890 by Carl von Thieme, the Director of the Munich Reinsurance Company at the time, Allianz Group is a German financial services company with its headquarters located in Munich. Its offerings span insurance and asset management globally, from property and casualty insurance to life and health insurance, credit insurance, travel insurance, and more. Its growth path has led to numerous brands and subsidiaries that provide these services.
The company serves over 100 million customers in more than 70 countries and is known for its commitment to work-life balance, professional development, diversity, and inclusion. For the eighth consecutive year, Allianz has been named one of FORTUNE's 100 Best Companies to Work for.
10.. The American Express Company
Amex, frequently referred to as American Express, is a highly respected financial services business that has been operating since 1850. Founded by John Butterfield, Henry Wells, and William G. Fargo in New York City, it is now one of the world's biggest financial companies. Surprisingly, it began as an express delivery business; rapidly expanding to provide money orders before branching out overseas, with the added innovation of charge cards.
Today, American Express is a leading provider of personal, small business, and corporate credit cards, as well as insurance, traveler's checks, hotel reservations, car rental agencies, and more. According to Forbes, American Express ranks 23rd among the world's most valuable brands (and the highest within the financial services industry).
Conclusion
As of year, these 10 companies are the top financial firms in the world and are undoubtedly widely recognized as providing superior services to their clients in their fields and nurturing their employees to grow to their fullest potential!