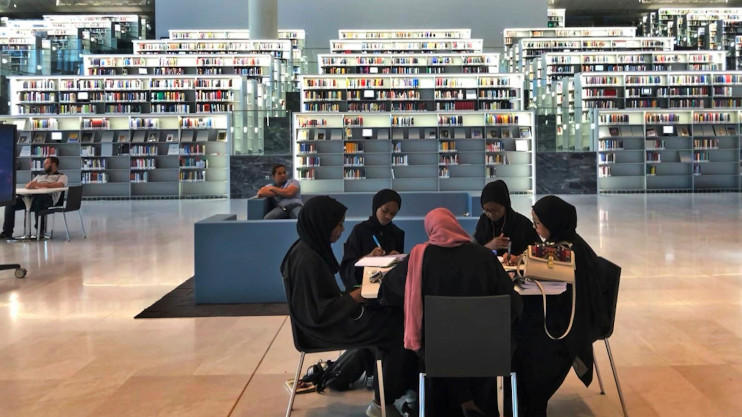 (C)Quartz
The Qatari system practices discrimination against society members in general, and women in particular, which prompted Qatari women to flee from Qatar, in an attempt to feel and be freer, in opposition to the laws imposed by Tamim, which represent restrictions that persecute women and incite violence against them. , And compels them to waive their rights.
In a new United Nations study, in conjunction with International Women's Day, the statistic revealed that Qatar occupies the second position as the most discriminating against women, as the country considers men to be political and business leaders better than women.
The Pakistani newspaper, News International revealed, that the percentage of discrimination against Qatari women is 99.73%, as it practices systematic persecution and discrimination against women.
Qatar continues to uphold its position rejecting the full recognition of equal rights for women, including matters relating to personal status laws, marriage, inheritance and child custody.
Antonio Guterres, United Nations' General -Secretary, has stressed the need to make an effort to change the position of male domination of the world, stressing the need for men to join the fight for women's rights.
"We must do our best to transform our male-dominated world," Guterres said in a tweet through his official Twitter account. "I talked about why all men should join the fight for women's rights, and why achieving gender equality will create a better future for all."
The United Nations General -Secretary, Antonio Guterres, has described the inequality of women as "folly" and a stigma on the forehead of the international community while pledging to pressure governments to repeal discriminatory laws in light of a "strong and fierce campaign" against women's rights
Although Guterres did not mention anyone by name, the US President Donald Trumps' administration is leading efforts at the United Nations against the promotion of sexual and reproductive health services for women because the administration considers it to refer to abortion indirectly.
In a speech before the annual United Nations Commission meeting on the Status of Women in New York, Guterres warned that the status of women's rights was hesitant and said he would seek to end "automatic male thinking" at the United Nations.
He said in a speech, "Just as slavery and colonialism have stigmatized the foreheads of previous centuries, inequality between women and men must stigmatize us all in the twenty-first century because they are not only unacceptable but are foolish."