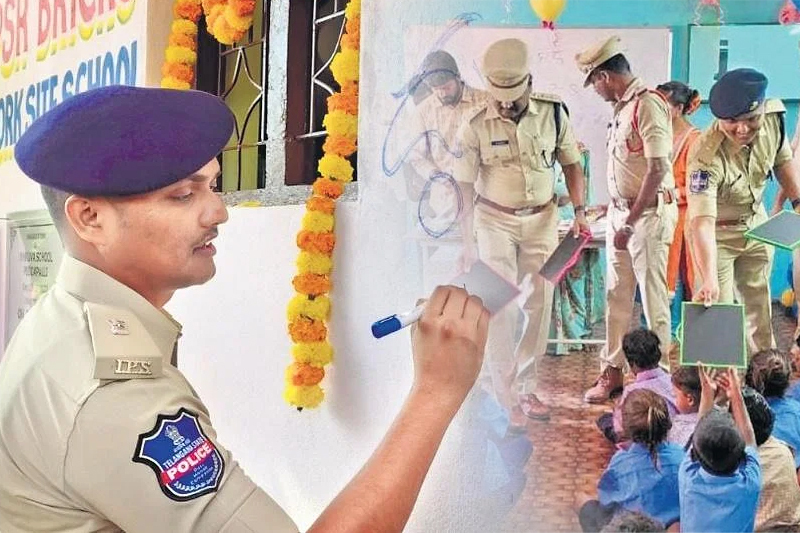 telangana police starts school for children of migrant laborers
Peddapalli Deputy Commissioner of Police (DCP) Chow Rupesh inaugurated Dhruva School in Begumpet village of Ramagiri Mandal in Peddapalli district. In a bid to bring a new lease of life to the children of migrant laborers working in brick kilns and provide them with education at par with corporate schools. This is news of Telangana and this area is surrounded by brick kilns all around.
IPS officer Ch Rupesh when took the charge of Peddapalli as DCP, he saw many children of migrant laborers working or waiting at brick kilns. They were waiting for their parents, who were working at the kins without education.
Then the DCP came to know that many of the migrant laborers working in brick kilns and are not able to send their children to school. The reason was the bad economic condition. The parents were illiterate, although many of them were trying to help their children with their work.
Related Posts
DCP with ACP performed many rounds of meeting with the migrant laborers and with the owners of the brick kilns. After this, he assured that the police will do all possible cooperation in providing education to the children of the laborers.
DCP Rupesh with help and agreement with the brick kiln owners decided to start a school. All facilities including digital classes on the lines of corporate schools. Operation of LED TV in each classroom of the school.
The name of the school is Dhruv. The school was inaugurated by the mothers of the children of migrants. The books, copies, and uniforms were also distributed among the students. Local people and migrant laborers thanked the police especially the DCP for this initiative.