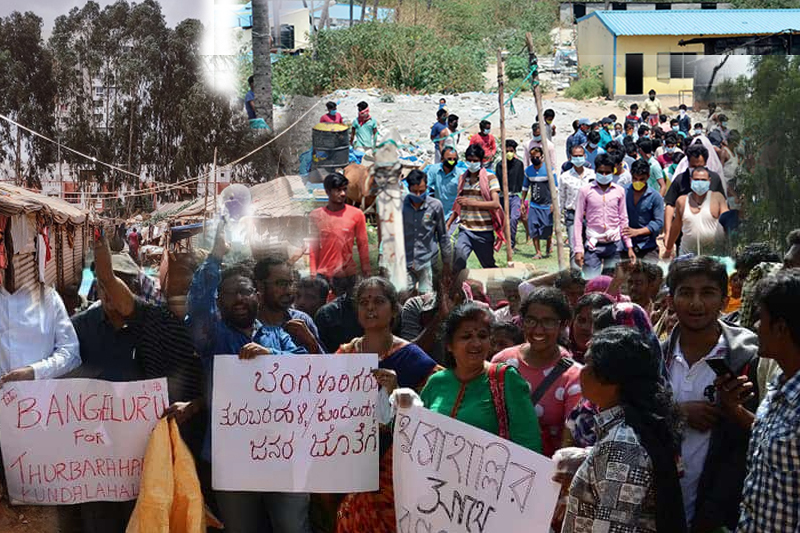 Migrant laborers threaten to halt work on garbage segregation

India – On Thursday, more than 100 migrant worker families who were residing in a colony at Thubarahalli in Varthur protested what they claimed were forcible evictions by the authorities.
The workers referred to the removal as unlawful and accused the Bruhat Bengaluru Mahanagara Palike (BBMP) and the police of cutting off the power and water supplies and setting a deadline for their eviction from the colony where they had been residing for the previous 20 years.
The protest was held in response to a FIR that the Varthur police had filed against Lokesh Reddy, the landowner, for renting out his property to migrant workers.
Following a complaint made on Monday by Mamatha M.S., Assistant Executive Engineer, Mahadevapura Zone, BBMP, the police arrested Reddy under the Karnataka Open Place Disfigurement Act as well as Sections 270 (likely to spread the infection of any disease dangerous to life), 278 (making atmosphere noxious to health), and 268 (Public nuisance).
In her complaint, Mamatha charged Reddy with allowing improper waste disposal on his property on Balagere Road, which not only polluted the air but also clogged a storm water drain, creating flooding in the neighborhood during the rainy season.
Related Posts
Reddy was summoned by the police, who also issued him a four-day notice to leave the colony. As a precaution to warn them, the colony's power connection was also cut off.
The migrant workers protested, organized a dharna, and sent a letter to the BBMP office asking the authorities to stop harassing them.
"We pay rent, live in the colony, and assist the BBMP with rubbish removal." In addition, there are a number of people in the region who drive school vans and women who have long worked as domestic helpers in flats in and around Tokyo. We upheld the law and even assisted local governments throughout the pandemic. We even gave blood to numerous hospitals. At the time, the agencies and the police were grateful for our assistance. However, today, they are demanding that we leave our homes and threatening to bulldoze our huts, "the protesters posed the question."
"We encountered a similar issue two years ago, but the Court decided in our favor and urged the administration not to conduct any eviction drives," a different protester continued. However, the agencies are intimidating us once more and disobeying the court ruling.
"The BBMP should generate awareness and even penalize individuals if they find anyone contaminating the environment instead of conducting eviction drives and uprooting poor people," said Riyazuddin, a driver and resident of the colony.
The charges of a forced eviction were denied by the Varthur police. "Based on the BBMP officers' complaint, we filed a case against the landlord and legally interrogated him," a police officer stated. "We have not requested anyone be evicted, and it is not within our purview."