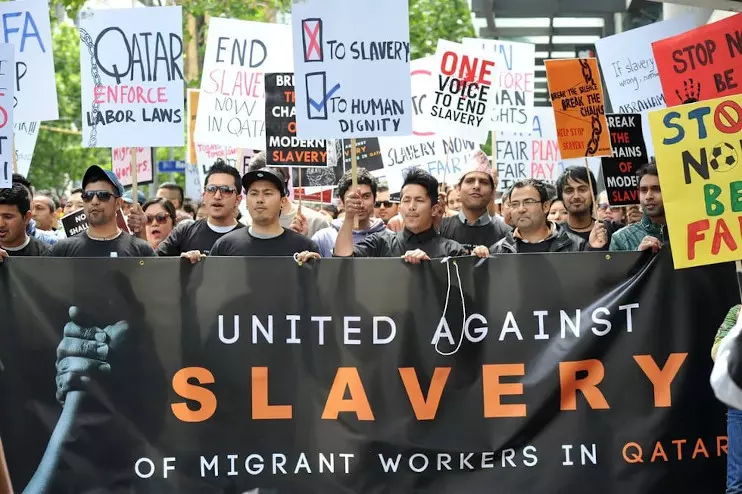 (C)UNwatch
Haitham Sharabi, a human rights researcher, confirmed that there are strong opportunities towards an international escalation against the Qatari regime after the exacerbation of human rights violations and international condemnations against the human rights file in Qatar during the current period, and the increase in crackdowns and arrests campaigns against Qatari opponents, noting that the increasing files of violations of foreign workers As revealed by international press reports, and other violations can be used internationally to promote against Qatar's hosting of the 2022 World Cup.
And on the method of international escalation against violations of Qatar, the legal research told "the seventh day", that this is done through a case of mobilization and promotion in international forums, the Commission for Human Rights and the United Nations' International Council for Human Rights on cases of human rights violations against foreign workers in Doha.
Haitham Sharabi stressed the necessity of documenting these facts and violations by Qatari institutions and jurists and to be presented in international forums.
Earlier, the World Slavery Index confirmed that Qatar topped the list of countries that did not provide support to reduce slavery, where the Qatarelix website, which is affiliated with the Qatari opposition, affirmed that the suffering of migrant workers to work on construction sites for stadiums hosting the 2022 World Cup matches in Qatar, At the top of the scene is that they live in bad conditions under laws that violate their rights, as the French economic magazine "Challenge" questioned Qatar's ability to pay the salaries of migrant workers, and the French magazine condemned the harsh conditions experienced by foreign workers in Qatar, where the Qatari regime continues its violations of workers' rights, stressing that The wages of foreign workers there are not guaranteed, after Human Rights Watch and Amnesty International criticized the Qatari regime for failing to tackle the crisis.
The site affiliated with the Qatari opposition pointed out that several Qatari companies had not paid salaries to their executives five months and two months for their workers, which reveals the flaws of the alleged system that Qatar announced its application to solve the crisis, but the government's failure to implement it made it unsuccessful.