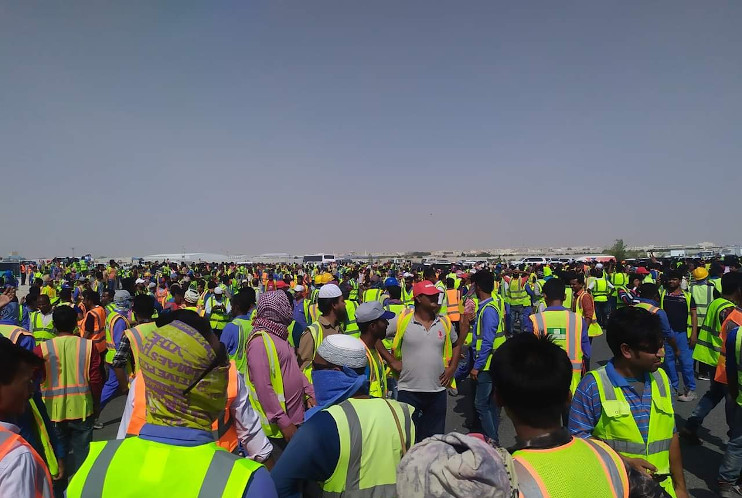 By Victoria Hudson.
Qatari authorities failed to address an employer's months of delayed wages to employees despite a 2015 system built to ensure employers paid their employees on time and in full, Human Rights Watch report says.
The government's Wage Protection System (WPS), designed to ensure that workers receive their salaries through direct bank transfer by the seventh day of every month, allows the government to monitor wage payments and allows the labour minister to impose sanctions on companies and employers that do not comply. But a Qatari employer did not pay its managerial staff for five months and its laborers for two months before workers publicly protested the situation.
"Qatar has passed some laws to protect migrant workers, but the authorities seem more interested in promoting these minor reforms in the media than in making them work," said Michael Page, deputy Middle East director at Human Rights Watch. "FIFA and the Qatari government should ensure that any employer that has delayed payments immediately releases them, as well as levy appropriate fines."
Qatar's 2022 FIFA World Cup organizer, the quasi-governmental Supreme Committee for Delivery and Legacy, has also adopted measures to protect workers on World Cup sites, setting stringent rules for contractors after many workers dead for heat stress last years.
The new report of HRW reveals that the management staff work without pay under threat of deductions until several staff members decided to stop working until they were paid. "The employer and their top-level management also made similar threats to keep laborers working throughout December and January. During this time, the laborers remained in their employer-provided accommodations and were provided regular meals. Management staff arrange for their own room and board". The report affirms quoting 11 workers who accepted to be interviewed.
"The employer engages over 6,000 workers and has over 25 current projects in Qatar. These include a stadium in Doha, which will host FIFA World Cup 2022 matches, the streets surrounding the stadium, and a road-building project to connect Doha's downtown areas to several FIFA World Cup stadiums". The report pointed out adding that since migrant workers are still banned under Qatari law from joining unions and participating in strikes, some of the unpaid workers risked arrest to protest for their salaries. "
Managerial staff protested outside one of their employer's many project offices in Doha on February 9, they told Human Rights Watch. They said that government and police officials intervened, verbally promised prompt payment, and sent the protesters home.
Under the International Labour Organization's Convention on Forced Labour (No. 29), work is considered forced or compulsory labour when workers are made to work under threat of penalty or withholding and non-payment of wages. The workers in Qatar have often delayed payment of salaries. Many of them reported to have not been receiving their wages on time since January 2018, often with two to three-month delays, a direct violation of Qatar's labour law, which requires that employees be paid their wages in full and on time.
Despite introducing some labour reforms over the past couple of years, Qatari authorities have failed to abolish the exploitative kafala sponsorship labour system that fuels abuses and gives employers excessive power over their employees. In most cases, employer's consent is still needed for a worker to change jobs. See more news about labour rights latest news .