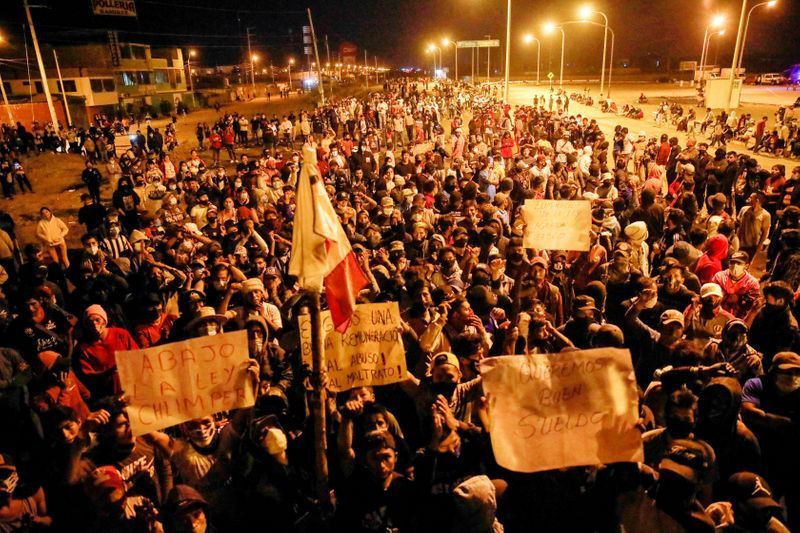 Agricultural Law
Last updated on January 7th, 2021 at 06:15 am
Agricultural Law: Farmworkers in Peru have been protesting for weeks to demand higher salaries. Last week twenty-eight demonstrators and thirty-six security officers were injured in fights, while local authorities arrested forty-five agricultural workers. The President of Peru, Francisco Sagasti, has promised to punish policemen who violated the ban on the use of firearms after three persons, including a 16-year-old guy, died a few days ago during farmworkers demonstrations against a controversial new farm law. This prompted the workers to block the key Pan-American Highway north of the capital, Lima. Television videos show local police using tear gas and birdshot against the protesters.
Local Authorities affirmed that clashes broke out Wednesday between demonstrators and security agencies. The policemen to disperse a roadblock on the country's main coastal road through La Libertad, a farming community about 600km (370 miles) north of the capital Lima used violence against peaceful demonstrators. The Ombudsman Country's Office confirmed to The Workers' Rights that two workers died of gunshot wounds on Wednesday, while a 56-year-old man with cancer died on a vehicle stranded by the turmoil. The office added that the situation is under control now.
President Francisco Sagasti deplored and rejected what happened in the Libertas avenues. He took Twitter to say: "We condemn those who incite violence. We will sanction the police officers who violated the ban on the use of firearms." The blockade lasted for two days before it was lifted ahead of talks on Friday.
The farmworkers also say the law supports what they say are unjustified privileges exercised by powerful agricultural multinationals. According to AFP, agricultural laborers in Peru continue to be discriminated against by the new law in benefit payment terms. Juan Antonio Herrera, the national leader of the Agricultural Workers' Union, told the Reuters news agency that in the Latin American Country, even those who sell candy pay taxes. "Why do large companies that have grown for 20 years continue to enjoy tax exemptions?". He demands.
Business managers are also unhappy with the bill, considering that higher wages will affect some 2,000 companies and 200,000 works. Sagasti called for fresh dialogue between political parties and the three government divisions, announcing the new law does not please any of the parties concerned. The workers continue demanding that agricultural-export companies increase their daily pay from $11 to $18, but the newly passed law provided an increase of only 48 soles, less than $13. A commission that the government Office explained included ministers and deputy ministers of Agriculture, Labor, Trade and other senior officials set with workers' representatives. After seven hours discussions, the members agreed to draw up an amendment to the farm bill within forty-five days.