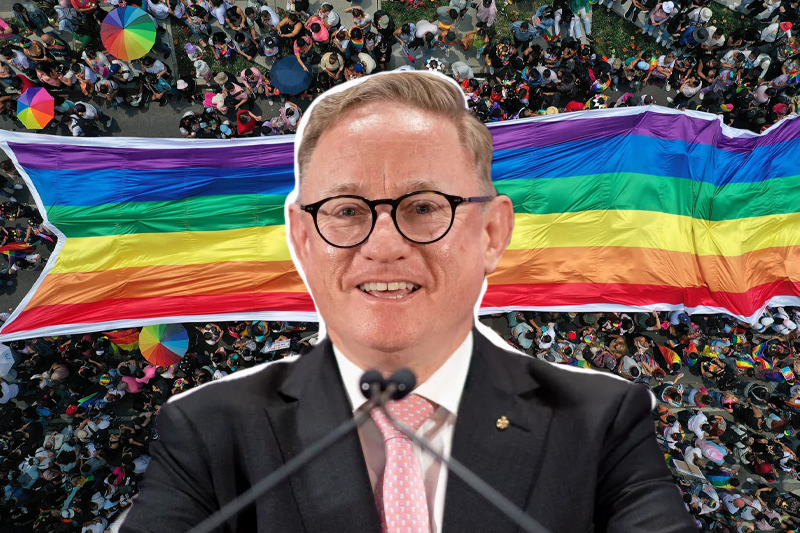 nsw will outlaw gay conversion therapy report from human rights conference meet sydney
On this Wednesday Minister Ben Franklin – NSW Art Minister spoke about the gay laws again. The news had been circulating for a long time and this time the minister again confirmed that the Government of Dominic Perrote would bring in legislation to make gay conversion therapy illegal in the state.
Now at the opening of the Sydney WorldPride Human Rights Conference, Minister Franklin made this commitment to the law.
Franklin's statement follows similar commitments by Premier Perrottet and Labor opposition leader Chris Minns to enact the law if elected. NSW elections will be held on March 25, 2023.
Perrottet and Minns, however, have reportedly assured religious organizations that the law will not violate their religious freedom and their right to preach on sexuality.
The NSW government has been requested to examine "world-leading" laws banning conversion practices in neighboring Victoria in light of the fact that much of the harm occurs in religious settings.
Whoever forms government must guarantee the stoppage of any activities that aim to alter or prevent a person's sexuality or gender identity in any context, including health and religious establishments. Additionally, they should publicize the harms posed by these practices, and have a civil procedure as an alternative to criminal penalties, except in cases where physical damage has been conclusively proven. This was asserted by Chris Csabs from SOGICE Survivors, who is a survivor of conversion practice based in Sydney.
The government must be pushed
Franklin emphasized the importance of civil society in pushing political leaders on human rights issues.
"While my 12-year-old self would be incredibly proud of all that's been accomplished, I know we still have a lot more to accomplish. Again, (forums) like this conference are vital to push us, legislators and opinion leaders, to go even further," Franklin said, adding, "Governments should be pushed, we must be pushed."
From personal experience as a minister, I know that politics can be contentious and that people can hold different opinions. But it is in these contested spaces that change occurs."
There is a struggle to ensure that all voices of our community are heard, whether they're lesbian, gay, bisexual, transgender, or from an intersection of backgrounds. But it is ultimately a struggle that must be led," Franklin said.
Keep Reading
The LGBTQI community should be included in the census
Additionally, the Minister committed to lobbying the federal government to include the LGBTQI community in the next census.
According to Franklin, the Australian Census does not capture information on sexual orientation or gender identity. Until we are counted, we will remain invisible.
As I pledge today, I will continue to fight for our community to be counted and lobby the federal government to include our representation in the census as the government's plan for delivering services to our community.
Attorney General Mark Dreyfus and Foreign Minister Penny Wong represented the Australian government at the conference's opening.
This year, Wong announced a $3.5 million Inclusion and Equality Fund for LGBTQI advocacy in the Asia-Pacific region.
The government will contribute more to the Global Equality Fund to support human rights defenders and LGBTQIA+ organizations working in our region to catalyze change as a first step.
In his statement, the Minister announced that the Department of Foreign Affairs and Trade would consult across the region "to identify the areas where we can make a difference."
"This will inform a dedicated human rights engagement strategy that includes bilateral and multilateral diplomacy, development and humanitarian aid for LGBTQIA+ individuals and communities. We can't just accept the world as it is – we have to do our part to change it.
Also Read:- The Top 10 Job Portals For Canada in 2023