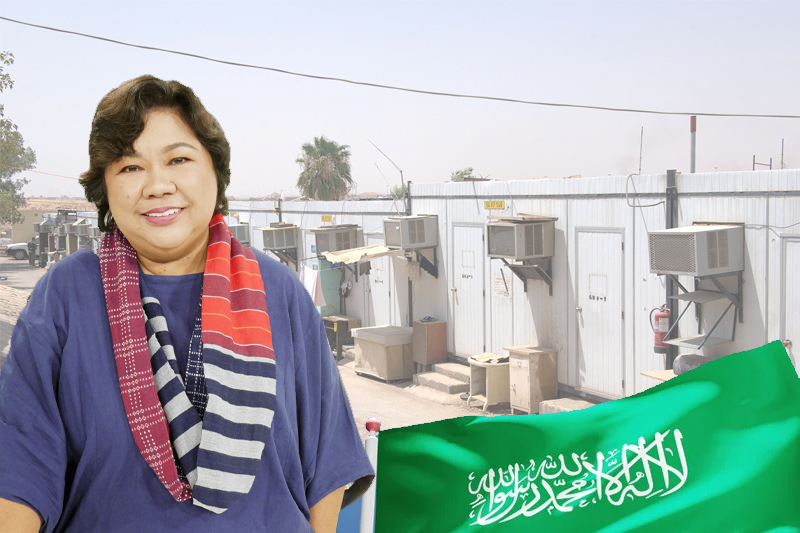 migrant workers chief plans
Migrant Workers Secretary Susan Ople said that she will stay in the DMW shelters during her visit to Saudi Arabia. She will fly there to check Filipino workers' conditions.
Susan Ople, the secretary of the Department of Migrant Workers (DMW), announced on Saturday that she and other officials would travel to Saudi Arabia the next week to meet with their Saudi counterparts and assess the situation of Filipino workers there.
Ople stated that her five-day tour, which will begin on December 6, will also include visits to the Overseas Filipino Workers (OFW) refugees at the Philippine Embassies in Riyadh, Al-Khobar, and Jeddah.
The DMW will start running the shelters in January 2023, and the migrant workers' chief said she intends to stay there.
Keep Reading
"Ikubli 'yong mga issue at madali. Therefore, you absolutely must visit and experience it before making any policy decisions. In particular, from a financial standpoint, you must know what you can afford "At the Dapo media event in Quezon City, Ople told reporters.
"The budget that is being used is being busisiin. What is the menu, what is the order of business for the occupants of the shelter? Pinagkakasya na lang imbes na humingi ng dagdag na pera, pag dumadami ba?"
According to Ople, some of the OFWs staying in the shelters are senior citizens who left abusive employers or are dealing with legal issues. She claimed that their intention is to handle the worried employees with humanity and dignity.
She stated that they intended to share this viewpoint with other Saudi labour officials.
So, according to Ople, "nakakaigi 'yong government to government diplomacy—labor diplomacy na tinatawag natin—cause it's more clear from a human rights perspective from both the employer side and the workers side when dalawang gobyerno is ang nag-uusap."
With Saudi Arabia's labour minister Ahmed bin Suleiman Al-Rajhi, OPL will also go over the status of the Kingdom's commitment to pay the back wages of about 10,000 OFWs living in Saudi Arabia who have lost their jobs since 2015.
President Ferdinand Marcos Jr. received this information from Saudi Crown Prince and Prime Minister Mohammad Bin Salman Al-Saud last November in Thailand at the APEC leaders' conference.
Arnell Ignacio, the head of the Overseas Workers Welfare Administration (OWWA), Hans Leo Cacdac, the undersecretary for finance and internal affairs Anthonette Velasco-Allones, and Patricia Yvonne "PY" Caunan, the undersecretary for policy and international cooperation, are also traveling with Ople.