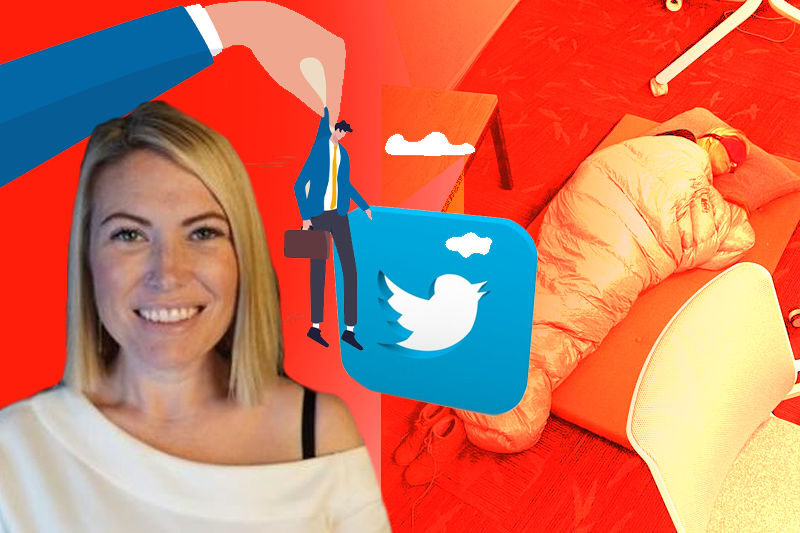 layoff on twitter employee slept in office to finish work
Elon Musk, who acquired the platform in October last year, fired 50 employees last weekend, one of which was Esther Crawford, who had been newly appointed to head 'Twitter Blue' product. Crawford had become well known for a photo that went viral of her taking a nap inside a silver sleeping bag in Twitter's office just days after Musk took over. Musk has since then made a new circle of executives to help shape the 'new Twitter'.
Elon Musk fired 50 employees last weekend, including Esther Crawford, who was in charge of Twitter Blue. There has been confirmation about her departure from Platformer, as well as The Verge's Alex Heath. According to the reports, Twitter laid off the entire product team over the weekend. Crawford was also in charge of Twitter Payments, which is expected to become a major revenue source for the company.
Esther Crawford took to Twitter and spoke about the same. "You could take the worst out of watching me go all-in on Twitter 2.0 is that my optimism or hard work was a mistake. People who jeer and mock are always on the sidelines and not in the arena. Through all the noise and chaos, the team has built something amazing," the former employee tweeted.
Keep Reading
In the aftermath of Musk's Twitter takeover last year, a post penned by Ms Crawford went viral. In it, she suggested that employees sometimes have to #SleepWhereYouWork in order to meet deadlines.
This led many to brand her as a Musk loyalist, since she had been posting updates on the social media platform's new plans. Then, following the first major wave of layoffs at Twitter in November, she tweeted that the CEO was "willing to try lots of things".
Her tweet added that while such attempts may not always be successful, the aim is "to find the right mix of successful changes to ensure the long-term health and growth of the business."
Slack, the company's internal communication platform, was also lost to Twitter employees, who feared they would also be fired. However, Elon Musk hadn't paid the bill for Slack.
Over 75 percent of the workforce has been laid off, leaving around 2,000 employees. To put this into perspective, Elon Musk has taken over Twitter with approximately 7,000 employees.
Also Read:- Italy Migrant Boat Shipwreck: At Least 59 Dead, Dozens Still Missing