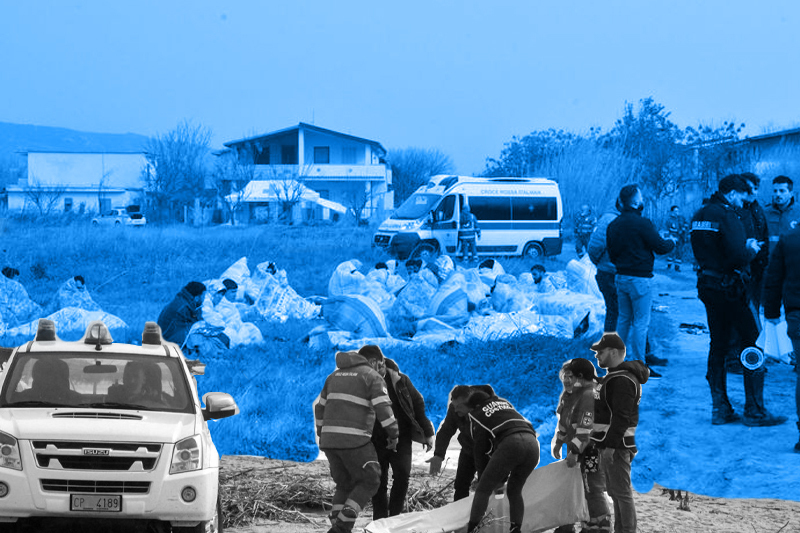 italy migrant boat shipwreck at least 59 dead, dozens still missing.edited
At least 59 migrants, including a newborn and other children, died and dozens more are feared still missing after a wooden boat broke apart against rocks near the Italian coastal city of Crotone in the southern region of Calabria early on Sunday.
At least 80 people survived the wreck, including 20 hospitalised, provincial government official Manuela Curra told Reuters news agency. The death toll is expected to rise.
Although survivors mentioned that at least 150 people were aboard the boat, the exact figure is still unclear as rescue workers have put the number at "more than 200" – implying at least 60 migrants are still missing.
Keep Reading
The vessel had set sail from Turkey several days back with migrants from Pakistan, Afghanistan, Iran, and Somalia. Video footage released by police shows chunks of wooden beams and boards lying on the beach of Calabria's seaside town of Steccato di Cutro. Survivors were seen covered in thermal blankets in footage shared by Italian news outlets.
The incident has drawn both expressions of grief as well as demands for action.
While Italian President Sergio Mattarella highlighted the difficult conditions the migrants had fled, Prime Minister Georgia Meloni expressed "deep sorrow" over the wreck and denounced traffickers.
According to customs police, one survivor has been arrested on charges of migrant trafficking.
Italy is a major landing point for migrants trying to enter the European continent by sea. Despite numerous casualties, thousands of people make the dangerous journey every year. More than 2,800 migrants died in 2022 – and over 20,000 have died or gone missing since 2014, according to monitoring groups – attempting to cross the Central Mediterranean, considered one of the most dangerous migrant crossings in the world.
The latest incident follows a controversial new law Meloni's right-wing government recently pushed through parliament to tighten the rules on rescuing refugees and migrants.
The wreck has strengthened calls for greater cooperation among European countries in order to develop safe and legal routes and improve search and rescue operations.
Also Read:- Queensland Watch-House Whistleblower Claims 'Illegal' Strip Searches Of Children