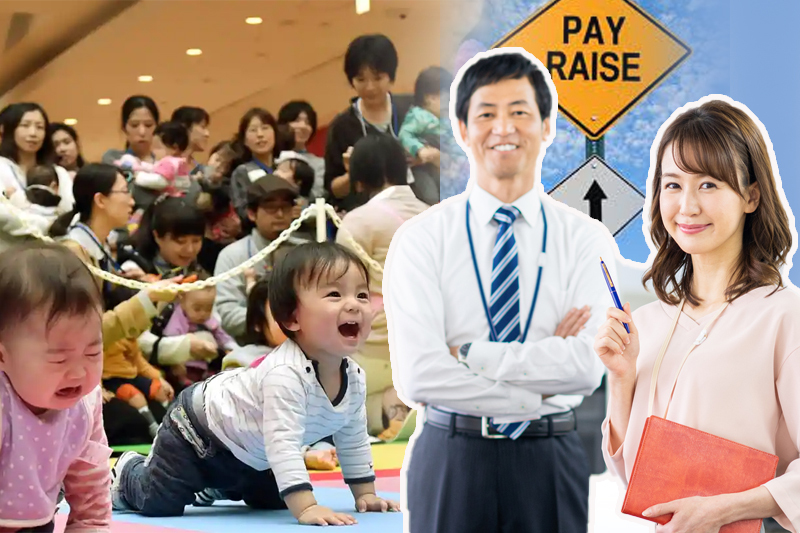 japan's low birth rate can be reversed by increasing the wages of young workers
The national government holds that raising young people's incomes is necessary to prevent policies intended to combat the nation's low birthrate from serving only as attractive on paper.
A new government panel that began discussions Friday to reverse the declining birthrate includes many business leaders, who play a crucial role in ensuring continued wage growth.
Masanobu Ogura, the minister in charge of child-related policies, stated at a news conference last month that "our traditional measures to raise the birthrate have focused on helping people raise children and get married."
This time is special because we're implementing economic and social policies to raise the incomes of younger generations, the speaker said.
What the survey in Japan says?
According to a government survey, 30.5% of male regular employees in Japan between the ages of 25 and 29 are married, compared to 12.5% of male nonregular employees in the same age range. The share is 59% for regular employees and 22.3% for non-regular employees for men between the ages of 30 and 34.
To some extent, men in both age groups who earn more money are more likely to be married. In order to create an environment where young people can get married and have children without worrying, it is thought important to ensure they have incomes that are high enough for a stable life.
Takeshi Niinami, president of Suntory Holdings, told reporters after attending the first meeting of the new panel that "steady growth in wages and household incomes need to be ensured."
In addition to addressing the low birthrate, Prime Minister Fumio Kishida has been promoting worker reskilling and workforce shifts to industry sectors experiencing growth.
According to economists, increasing parental support and wage growth are two important factors in turning around the low birthrate trend.
Keep Reading
Discussions on how to finance the measures outlined in the draught package announced by the government late last month are anticipated to dominate the agenda of the new panel. Raising social insurance premiums is one of the proposals.
The government and ruling party are cautious when considering tax increases and bond issuance to raise the required funds. Businesses are worried about rising social insurance premiums, meanwhile.
By June, the government hopes to have a plan outlining a doubled budget for child-related initiatives.
The prime minister, related ministers, Niinami, Masakazu Tokura, president of the Japanese Trade Union Confederation Tomoko Yoshino, and Atsushi Seike, head of the Japanese Red Cross Society are among the panel's 29 members.
The proposed package includes extending the period of eligibility for benefits, eliminating the income cap for child benefits, and giving housing assistance to families with children. The cost of those measures is estimated to be several trillion yen.
Experts disagreed with eliminating the income ceiling for child benefits. According to the panel's secretariat, these experts recommended funding for some other policies.