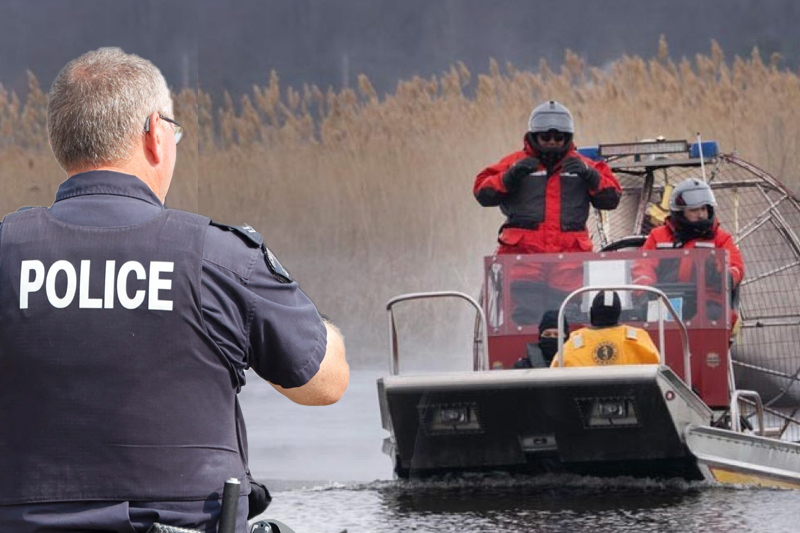 indians are also among the 8 expatriates who drowned near canada board
The St. Lawrence river drowned two more migrants who were trying to enter the US illegally from Canada, bringing the total number of fatalities to eight, including members of an Indian family, according to Canadian police.
The bodies were discovered on Friday in a marsh by a riverbank not far from Akwesasne, a town that lies on the border of three states—Quebec, Ontario, and New York. There is still one more person missing.
According to police, the deceased was attempting to enter the United States from Canada. They are thought to be two families of Indian and Romanian descent. Two of them were under the age of three and were both Canadian citizens.
Regarding people trying to cross, Akwesasne Mohawk Police Chief Shawn Dulude said: "Unfortunately, these situations happen. It's not something new."
The officer was quoted by the Montreal Gazette as saying, "We've seen it happen in the past, and hopefully as we move forward… it's something we can one day eliminate."
In addition to stepping up river patrol, Akwesasne police said they are collaborating with Immigration Canada to help identify the victims and notify the victim's next of kin.
Around 5 p.m. on Thursday, during an aerial search requested by the Canadian Coast Guard, authorities found the first body in the marsh.
On Friday, a light airboat was used to assist search crews as they navigated through a marshy area close to the local marina, while a helicopter scanned the river.
A second infant and another woman's body were the final two to be pulled from the water.
Keep Reading
Following the discovery of six bodies and an overturned boat on Thursday afternoon during a missing person search, police pulled two more bodies from the river on Friday, according to CBC News.
According to police, they are thought to have been two families from Romania and India who were trying to enter the US, and one Akwesasne resident is still unaccounted for.
According to the police, there has been an increase in the smuggling of people into the US, and US Customs and Border Patrol's Ryan Brissette claims that there has been a "massive uptick in encounters and apprehensions" at the border.
According to him, over 8 times as many people attempted to enter the US from Canada in 2022 as in previous years, with more than 64,000 of them entering New York through Quebec or Ontario.
This is a significant number compared to this area in the past, according to Brissette.
"There are many different explanations for why people suddenly enter the country through the northern border. I believe that many of them view it as a simpler and an easy opportunity, and they simply are unaware of the danger it poses, particularly during the winter.
According to Akwesasne police, since January there have been 48 instances of people attempting to enter Canada or the United States illegally through Mohawk territory, with the majority of them being of Indian or Romanian descent.
Six Indian nationals were rescued from a sinking boat in the St Regis river, which flows through Akwesasne Mohawk Territory, in April 2022 after it sank in January 2022. In January 2022, the bodies of four Indians, among them a baby, were discovered frozen in Manitoba close to the Canada-US border.
Six Indian nationals were saved from a sinking boat in the Akwesasne Mohawk Territory-based St. Regis river in April 2022.
When will the government wake up to the incidents happening on the Canadian border?
This is not the first time we know of an accident at the Canadian borders, where many migrants have been drowning for a long time.
But neither any government action is being taken nor any migrant organization is coming for donations!
We demand with a simple line, "Every breath should get a chance to live" Migrants are humans too. Government should take action about this.