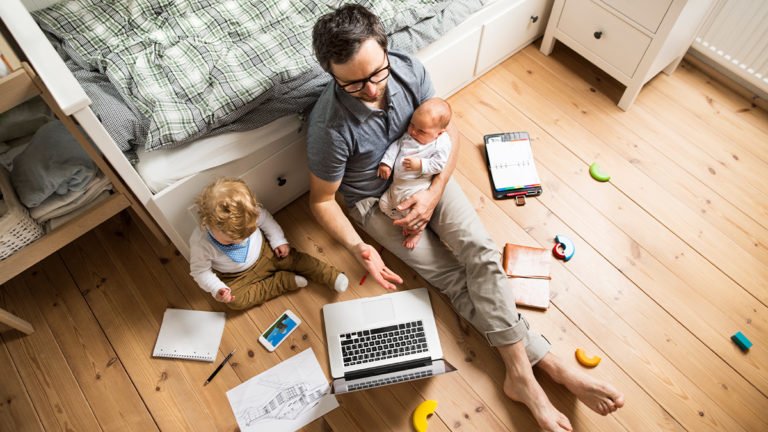 (C) Westend61/Getty Images
We are living in unprecedented times of staying at home amid the Coronavirus lockdown following the social distancing protocol. Schools closed, daycares shut down, offices operating from homes and public places barred. While the parents are working from home and children too at home, the normal life is set to go haywire. Loosing sanity? It's normal and expected. Can it be handled? Absolutely!
Working from home looks like it is there for extended time. And so would be the children at home. Parents are struggling everywhere to balance their work life and personal life without feeling the parent guilt. This balance is achievable following certain tips and tricks to maintain sanity while working from home with kids.
Maintaining Routine
The key to balance is keeping the routine as much as possible. Studies reveal that families who stick to a schedule and routine even during this pandemic find it easier to go through the day. A routine provides firm guideposts to navigate through the work day and childcare with proper structured environment for kids.
Modified Schedule for Parents
Single handed parenting is frustrating for parents as well as the kids. Parents can take turns while caring for child while the other partner finishes up a meeting, for instance. With a parent on shift for couple of hours and then a swap also gives children a refreshing change. Calm parent equals to a non-fussy child and peace of mind for the whole family.
Adjust according to time – New ways to do old things
Being on lockdown doesn't mean children cannot enjoy playdates with friends. Virtual playdates via Zoom or Google Hangout, to name a few, are great ways to add some spark to kids day. This also provides some free time to let parents finish up their pending work. A win -win!
Creative activities like yoga and painting classes can be availed online – for free. Go Noodle is a pretty interactive and free source for making kids active. Few others are Cosmic Yoga and Art Hub for Kids.
Keep a fun after day activity planned for the family
An after dinner board game routine or weekend movie night can be a fun and refreshing missing part of your day, something to look forward to.
Days are indeed tough and challenging. But a change in some normal things we do while sticking to few things can help parents not only balance their work and personal life, but also let children enjoy the day without getting fussy or cranky.