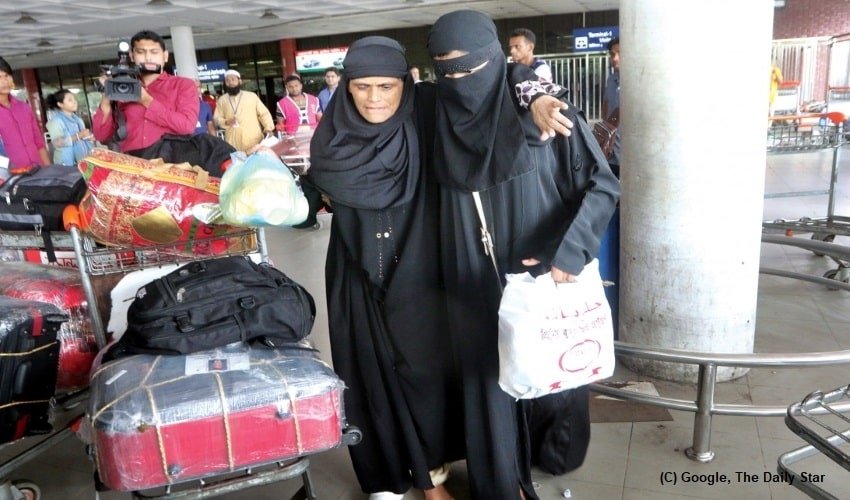 Migrant workers from Bangladesh have had a harrowing time post pandemic.
Migrant workers from Bangladesh have had a harrowing time post pandemic. The ordeal for survival was unbearable at the hands of unregulated recruiting agencies. Lack of coordination between state bodies blamed had added to the financial and emotional injuries. Confirmed reports state that as many as 63 bodies of women migrant workers have been returned from the Middle East.
Between January and October, "as many as 63 dead bodies of female workers were returned to Bangladesh from various Middle East countries, including 22 from Saudi Arabia and 14 from Lebanon," confirms Khairul Islam, deputy director of the expatriate welfare desk at Shah Jalal Airport, Bangladesh.
Many of those who have returned dead are under the permissible age of employment. It has come to light that most had been sent to work to various Middle Eastern countries without proper paper work or falsified age documented on their passports.
Due to the conditions of poverty prevailing in Bangladesh, many women have gone out to look for means to earn money and support their families. In many cases, suicide has been said to be the reason of death of these women. Between 2017-2020, the number of deaths reported were more than 450. All of these were women who had gone to Middle Eastern nations looking for employment.
Sharing here another devastating news reflecting the impact of wage theft on women migrant workers, by Md Owasim Uddin Bhuyan, entitled: Overworked, unpaid and abused, Bangladeshi women return from Middle East. Read more here: https://t.co/y1FRcvoDdv

— Migrant Forum in Asia (@mfasia_) October 9, 2020
Saudi Arabia is said to have hosted more than 2 million Bangladeshi migrant workers, one of the largest chunk each year.  In 2018, the migration desk of BRAC, a leading Bangladeshi NGO had confirmed data to prove that 5,000 female Bangladeshi workers had returned in three years back to Bangladesh in unhappy mental state. They had been employed in various Gulf countries (mostly Saudi Arabia) and had been subjected to physical, sexual and psychological abuse. Workers also alleged payment of lower wages than they were promised and withholding of payments for months.
According to the World Bank estimates, for Bangladesh as a Muslim-majority and largely agricultural country, remittance pay is a huge help to its GDP. About one quarter of more than 160 million people live below the poverty line and half of them live in extreme poverty.
Therefore, many families depend heavily on migrant employment opportunities which brings home $15 billion per year in the local currency. This desperation has led to the mushrooming of dubious recruiting agencies. These agencies have used dubious paper work to get migrant workers work abroad. The pumped up age and fake paper work has gone unnoticed until now. The ongoing violation of the human rights continues to haunt the lives of innocent Bangladeshis.