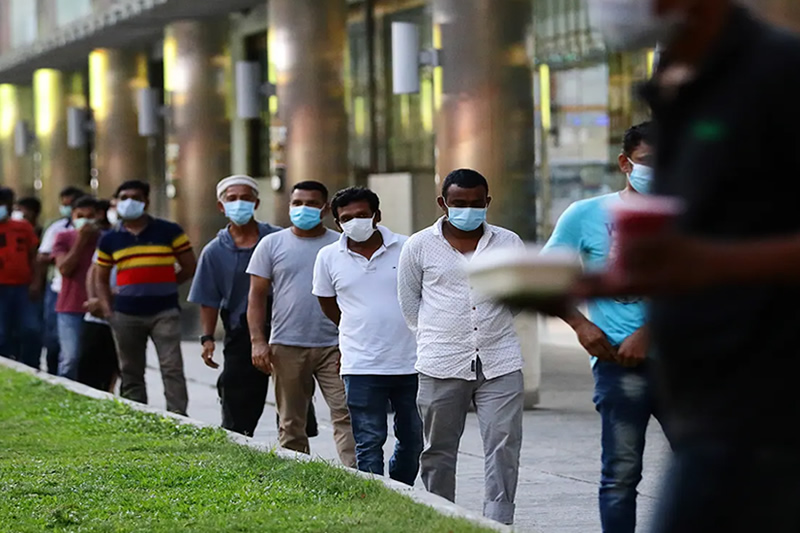 Health and living conditions of migrant workers ignored in Singapore

Singapore – Chaos and neglect is seen at the newly built foreign worker dormitory in Jurong. Residents and children are seen living in poor conditions and a lack of timely access to medical help for Covid-19.
Near to quarter of 2,000 workers of Singapore are staying in the dorm have reportedly tested positive for Covid-19. Sebcorp Marine, which is a company for marine transportations employees large number of the workers and forced them to live in unhealthy conditions.
The situation reached a tipping point, when residents gathered to confront the dormitory's management. Social media got filled with pictured of workers sleeping along corridors and walkways outside the dorm rooms.
They alleged that they did so to prevent their roommates from catching the virus, as no one came to isolate them. Residents have been frustrated with the uncleanliness but are adjusting to stay there since they have nowhere else to go.
Police understands that the dorm residents are of different nationalities, but had banded together to voice their frustrations. Aside from a lack of timely medical support, they also claimed poor living conditions and were given food that had worms.
Related Posts
Some workers had threatened to quit and return to their homelands because they were frustrated with how they were being treated.
The Ministry of Manpower said that it was aware of allegations of a breach of healthcare protocols, lack of access to medical support and poor quality of food at the dorm. They are looking for a way out to make things better and provide the workers with basic medical assistance and living environment.
Sembcorp Marine spokesman told that the company understands that Westlite is following the mandatory Covid-19 health testing and movement protocols and they have been working closely with the relevant authorities. He further added that the company is mindful that the current protocols in Singapore may not be apparent to the residents in the Tukang dorm, and may differ from Covid-19 management measures from their home country.