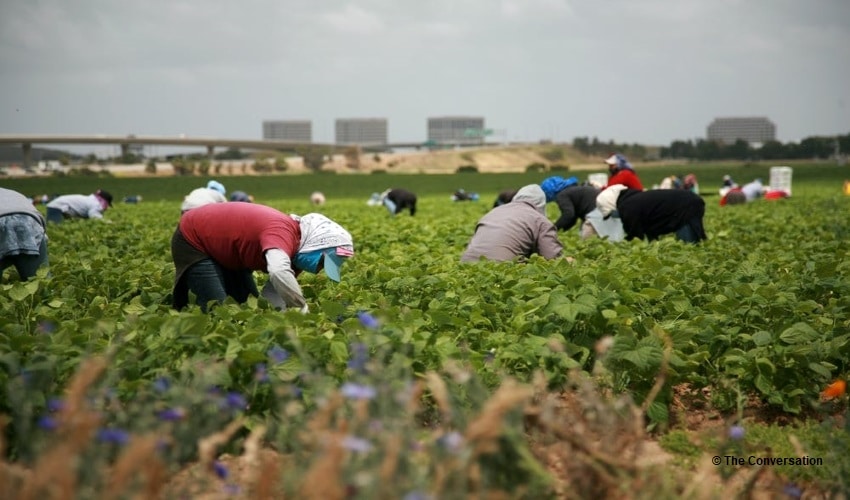 The outbreak of coronavirus among guest workers in Canadian farms has put a spotlight on their mistreatment at the hands of employers.
The outbreak of coronavirus among guest workers in Canadian farms has put a spotlight on their mistreatment at the hands of employers.
For several decades now, foreign workers have been the mainstay of the Canadian farming industry, with more than 60,000 of them arriving each year to cultivate billions of dollars of produce. They are usually seasonal migrants from Mexico, Guatemala and Jamaica, brought in to make up for domestic labour shortages and growing exports. This year, the pandemic has resulted in some of being unable to come in for their regular work. But for those who have managed to make it, the conditions at the farms have exposed some of Canada's weak labour policies towards its guest workers.
There have been several outbreaks among farmworkers this year, with nearly 1,300 workers tested positive for the virus while three have died. The government had said reactively that the rules must be followed in a better manner for foreign workers in Canada. They had provided employers $50 million to cover costs of stay and food for the 14-day mandatory period but many workers rights advocates have said that this benefits employers more than workers. Besides, the photos of poor accommodations, of bunk beds being separated by cardboard boxes, and starvation-level rations have raised questions about the effectiveness of these measures meant to safeguard the interests of the migrant workers. The people who grow Canada's food are, ironically, going hungry.
Many migrant workers in Canada are in crisis after a number of farm owners decided to bring them here in the middle of the coronavirus pandemic.

But some, like Ont. farmer Lisa Bibb, left her workers at home.

My investigation on the national emergency: https://t.co/VmQS4riFwr pic.twitter.com/aCZQ4CmgcZ

— Jasmine Pazzano (@jpazzano) August 28, 2020
Activists are asking the government to grant permanent residency on arrival so that they may leave their employers in case of mistreatment and find new jobs. Right now, they don't have this option and the employers have a lot of control over who stays, who goes and who gets invited back to work the next year. While some avenues exist to contest dismissals or apply for a permit to work somewhere else, these are difficult to follow up with once the workers are already sent home.                
Activists also say that the federal programme under which workers are invited into the country is inherently racist by nature and it discriminates between foreign workers and Canadians by not providing them equal standards, laws and practices. For example, while some farms imposed restrictions on movement for their foreign workers, prohibiting them from leaving their place of work (which is incidentally also their home for the duration), no such rules apply for Canadians working there.