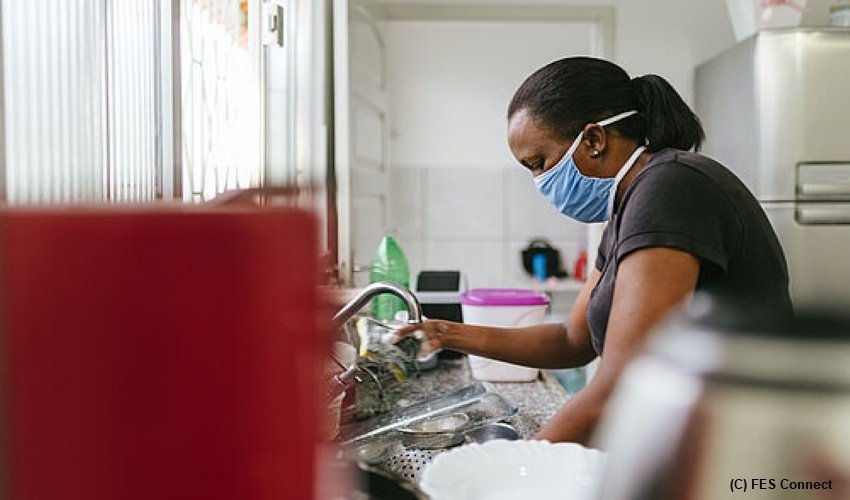 The plight of domestic workers in Brazil calls for the government to establish strong labour rights
The plight of domestic workers in Brazil calls for the government to establish strong labour rights
Brazil has emerged as one of the worst-hit nations in the world due to the COVID-19 pandemic. During the initial days of the pandemic outbreak in the country, many domestic workers were infected with the disease from their employer which raised alarming concerns over the inefficiency of the Brazilian government in handling the health crisis.
As per the government statistics, Brazil is home to over 6 million female domestic workers, which is the second-largest occupation for women in the South American country. From upper-class to lower-middle-class homes, many households employ these workers as live-in maids and daily workers to carry out their domestic chores.
However, these domestic workers lack access to basic social protection and labour rights in Brazil. They earn an average of US$128 a month which is critically less than the minimum wage in Brazil of around US$200 per month. Due to lack of employment safeguards, limited access to basic healthcare facilities, long-distance commute to work, these domestic workers are living in crisis in the country.
While there are certain rights safeguarding their needs, many female workers get excluded from these benefits due to various factors. At times, employers also fail to respect these rights of the workers due to inadequate monitoring of the implementation of the laws.
No pay, no freedom: Brazil struggles to rescue maids from slaveryhttps://t.co/zfuob975Fm
Many families in Brazil employ at least one domestic worker. In some cases, they take in abandoned children to raise as their own but subject them to domestic servitude, advocates say.

— Arthur Kimes (@ComradeArthur) August 13, 2020
In addition, there is no formal contract or agreement guiding the employment of the domestic workers at a Brazilian household. As per a report, only 27% of Brazilian female domestic workers had a formal contract in 2018. As a result, a significant majority of female workers are not able access unemployment insurance, sickness or retirement benefits due to unavailability of a formal employment agreement.
Adding to their crisis, the ongoing COVID-19 pandemic has exposed many of these workers living in unsanitary conditions to the disease. Many household chores such as cleaning and taking care of children and elderly people expose the workers to virus infection.
Read Also | Russian Embassy blames UK for disrupting ties between Moscow and other nations
While the Brazilian government allowed partial employment and suspension of contract for up to two months amid the pandemic lockdown, the majority of the domestic workers, particularly those without a formal contract, were left without income and livelihood. The government also provided financial stimulus to support worst-affected workers, however, many of these women faced difficulties in registering and accessing the aid benefits due to lack of internet access and other factors. Many of those who were able to apply for the aid could not receive the funds owning to bureaucratic delays and defective execution.
In the aftermath of COVID-19 restrictions, several domestic workers demanded the government for labour rights to protect their health and wellbeing during the crisis. In May 2020, FENATRAD (National Federation of Domestic Workers), a federation of domestic workers unions, launched a campaign to protect the rights of the female domestic workers. It challenged the state decrees that designated domestic workers as essential service providers and forced them to continue working during the lockdown. After pressures from the Federation, the state decrees was eventually revered.
However, there is an urgent need for the Brazilian government to develop adequate labour rights for the safety and protection of millions of female domestic workers in the country.