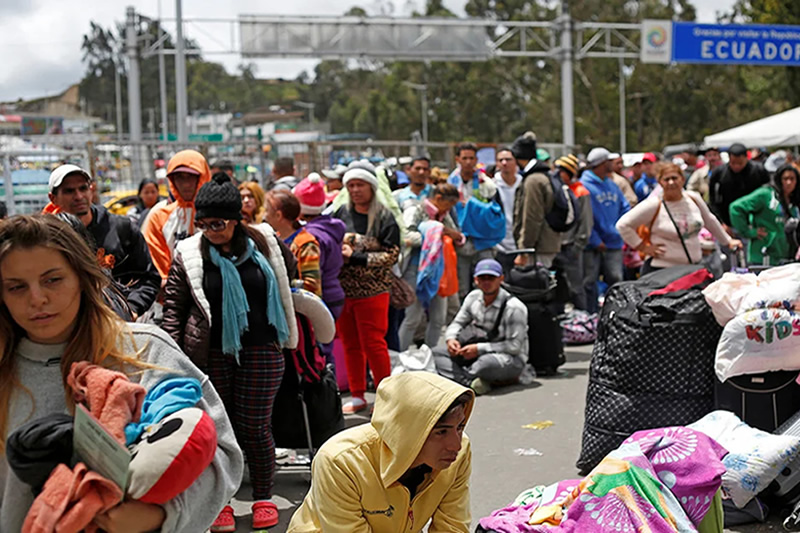 Chile becomes intolerant to surge of Venezuelan migrants

Chile, USA – Iquique in Chile is becoming a makeshift haven for immigrants, something that is not going very well with the rest of the residents. Situated near the border of Bolivia, the small city is receiving many Latin American migrants who wish to escape their poverty and political upheavals in their respective countries.
Last week, a huge group of local residents actually attacked a group of Venezuelan migrants and also burned down their makeshift resettlement tents. The sad truth of Venezuelan migrants is that when they cross the border at Bolivia into Chile in search for refuge in the desert, they have already crossed five South American countries.
It is a desperate movement of survival for many; of which families comprise young children in the laps and prams too. Those who can't afford the long ordeal would carry their little ones in backpacks. South America has always received migrants, but now, the attitude of the government and the residents is becoming hostile and unwelcoming.
In mid-2020, international migrants represented 2.6% of South America's whole population, a significant increase from the less than 1% registered in 2015, according to the International Organization for Migration (IOM). Since 2017, the rules governing the movement of immigrants has been becoming harsh and restrictive. Between 2000- 2017, the leaders of several South American countries including Argentina, Chile, Ecuador, and Bolivia had genuinely pushed for more progressive immigration laws that made it easier for migrants to cross borders, work legally and obtain resident visas. But the trend in policy has since reversed, with restrictions on movement gaining momentum.
Related Posts
Now most of these migrants are moving due to lack of support for the way climate conditions are affecting their livelihood. In the last one week, even Haitians have been seen moving in ten and thousands towards the United States border at Del Rio, Texas. Their experiences are somewhat similar to these migrants from Central and South America.
After Haitians, Venezuelans have been suffering due to multiple factors. Under ineffective leadership, they have suffered with hyperinflation, power cuts, food shortage, water and essential medication, as well as political persecution have pushed more than five million Venezuelans to leave their country, according to the IOM, of which 79% have moved to other nations in South America.