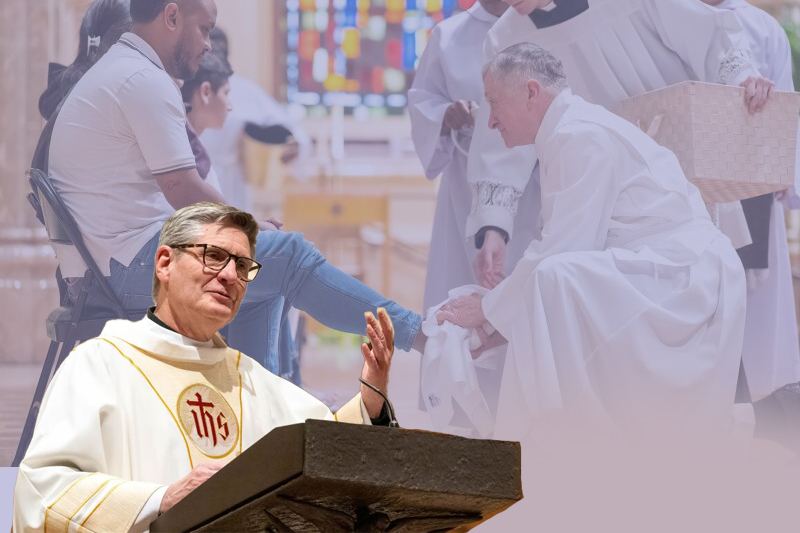 cardinal cupich washes feet of venezuelan refugees on holy thursday
As part of a customary Holy Thursday tradition, Cardinal Blase Cupich washed and dried the feet of twelve Venezuelan refugees on Thursday.
Cardinal Cupich washes the feet of Venezuelan refugees in the Holy Thursday ritual to symbolize humility and servitude.
The ceremony, which stands for submission and humility, was carried out during Mass at Holy Name Cathedral. It brings to mind how Jesus washed his apostles' feet at their final meal together before he was taken away to be crucified.
Juan Pablo, 13, and Keila Puentes, 30, were two refugees who attended the ceremony.
Puentes remarked, "I never expected something like this, it was beautiful." "I give God a lot of thanks; it was divine. I didn't think I was worthy of it.
As Cupich knelt and applied water to the migrants' feet, several of the migrants had tears in their eyes.
Keep Reading
However, Daniel Zavala, 41, thanked the cardinal for his kindness despite feeling a little embarrassed during the rite. After that, it felt good, Zavala remarked.
The ritual, according to the Rev. Ken Simpson's homily, also represents generosity and the need to share what we have received with others, including complete strangers.
The migrants, according to him, are wanderers who "seek shelter, seek a place to belong, as all of us do."
More than 5,140 asylum seekers have arrived in Chicago since August, including those who were transported there on special buses from Texas and Colorado. Most traveled from Venezuela to the United States overland.
Zavala, who moved to Chicago in October, claimed that Catholic Charities of the Archdiocese of Chicago had assisted him in adjusting to his new nation.
Zavala claimed, "They have assisted me in numerous ways. God is good that they do the work.
The Holy Week, which started on Sunday, includes the Mass and ritual. It is the final week of Lent and the week leading up to Easter Sunday. Catholics and other Christians observe the week as a time to reflect on Jesus Christ's suffering, death, and resurrection.
The significance of the occasion for Puentes and her son was difficult to put into words, she admitted.
Puentes remarked, "You do it with great humility and much love." "I lack the words to describe it adequately. It's gorgeous.