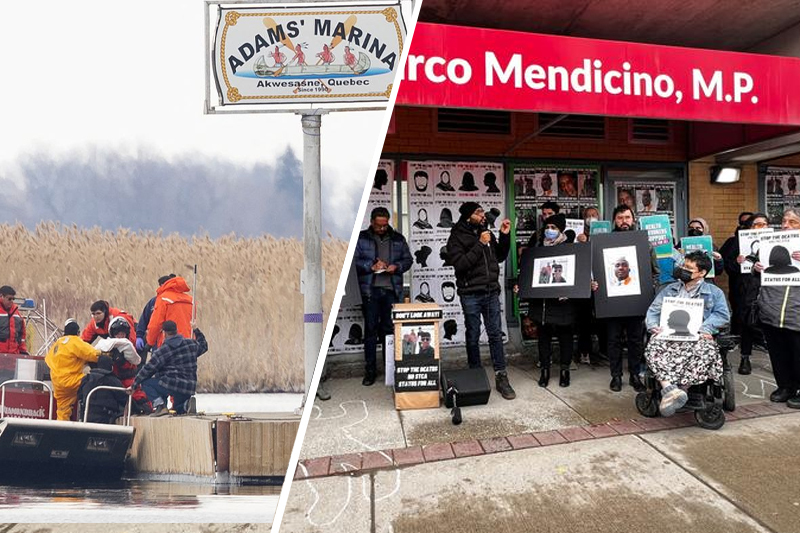 advocates demand permanent resident status for all amid death of families on st. lawrence river
On Tuesday, activists in Toronto urged the federal government to take action to stop new migrant fatalities along the U.S.-Canada border.
On Lawrence Avenue West near Bathurst Street, protesters from the advocacy group Migrant Workers Alliance for Change gathered in front of the public safety minister Marco Mendicino's district office.
What was the incident of St. Lawrence ?
Eight people died last week in Akwesasne, a Mohawk territory, prompting the rally. The St. Lawrence River was where their bodies were recovered.
By terminating the Safe Third Country Agreement and granting permanent resident status to all immigrants in Canada to ensure they have equal rights, activists argue that Canada should try to stop further tragedies.
Members of the group delivered a petition with more than 7,000 signatures calling for change. They hung posters with the images of deceased migrants on the office's windows.
Syed Hussan, executive director of the Migrant Workers Alliance for Change, told reporters that the real problem in this situation was that the federal government had promised a regularisation programme and to grant status to those who were undocumented.
Justin Trudeau, according to Hussan, has not yet fulfilled his promise.
"People are dying as a result of having to make the perilous journey to the United States. We're here to urge Prime Minister Trudeau to regularise immigration so that everyone in the nation has status as a permanent resident while also reminding him of the names and faces of those who have passed away as a result of his decisions."
Hussan described the deaths as tragic and said, "We are grieving and we are angry."
We are both grieving and angry, he declared.
"We're urging Justin Trudeau, the prime minister, to consider the faces of his own children and consider what goes through a parent's mind when they decide to take their kids and put them in a boat and cross a river in search of a better life, forcing them to leave Canada. What aspects of the nation's immigration policies make that option preferable to remaining here?"
According to the police, the eight victims came from two families, one of Romanian descent and the other of Indian ancestry. They have been identified as 28-year-old Florin Iordache, his wife, Cristina (Monalisa) Zenaida Iordache, their children, Evelin, 2, and Elyen, 1, as well. They were both Canadian citizens.
The other four victims were members of a Gujarat-based family: Praveenbhai Chaudhari, 50; Dakshaben Chaudhari, 45; Meet, their 20-year-old son; and Vidhi, their 23-year-old daughter.
On Thursday, five adults and one child's bodies were discovered in a marshy area; on Friday, the bodies of another child and an adult woman were found.
According to the authorities, the eight individuals were allegedly attempting to enter the United States without authorization from Canada through the Akwesasne Mohawk Territory, which crosses international and provincial boundaries and includes parts of Quebec, Ontario, and New York state.
By agreeing to turn away asylum seekers at unauthorised border crossings like Roxham Road last month, Canada and the United States closed a long-standing gap in the Safe Third Country Agreement.
No matter where they attempt to cross, the deal guarantees that people will be turned away at the border. It is intended that individuals file an asylum application in the first nation they land in, whether that be Canada or the United States.
Keep Reading

Orderly immigration, according to Trudeau-
In light of the St. Lawrence River deaths of families, advocates call for permanent resident status for everyone.
Trudeau stated on Monday the significance of a well-organized immigration system.
The deaths were a tragedy, according to the prime minister, but Canada must keep the public's faith in the immigration system.
In Val-d'Or, Quebec, Trudeau said, "This is not a system we can have confidence in when people take risks to cross our borders in an irregular manner or if they pay criminals to get them across the border."
He declared that although Canada is more ready than ever to accept immigrants, "we're going to make sure that it's done in the right ways, appropriately."
Advocates for migrants expressed concern that the new regulations would encourage people to cross the border at even riskier locations or by using smugglers.