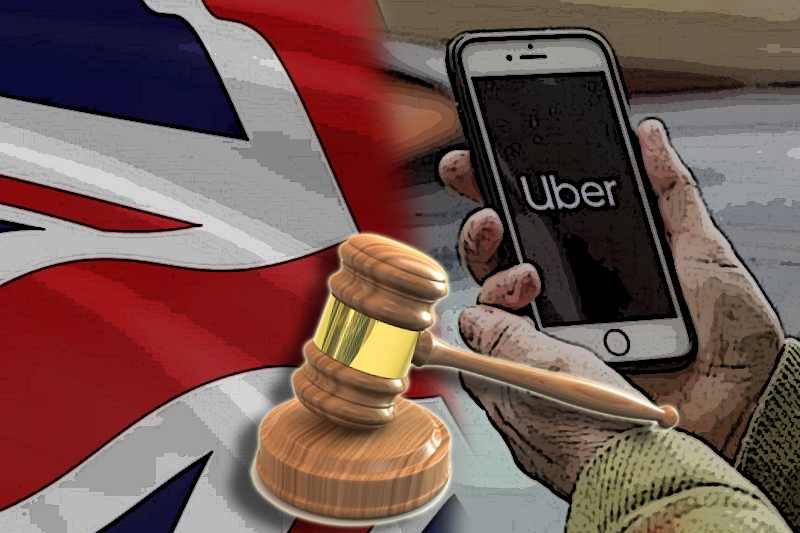 Uber drivers
Uber has suffered a major blow as United Kingdom's Supreme Court made a ruling on Friday in favor of drivers who must be classified as 'workers' and entitled to employee benefits like vacations and minimum wages. This threatens future of Uber company that is already facing losses in its most important market.
The court decision follows long going confrontation between labor groups and the gig companies that challenge labor rights of workers by calling them 'contractual workers' instead of 'employers' and thus preventing them of any employee benefits. This in turn also poses existential threat to companies like Uber that rely on vast labor of contractual workers for services like car rides and food delivery.
British Supreme Court unanimously ruled that though Uber is a technology platform that forms a connection between passengers and drivers, it acts more like an employer by assigning rides, setting base trip rates, allowing drivers to use a particular route and also following a rating system for disciplining them. The ruling was a win for labor rights activists in Europe and the United States of America who are advocating better protection for workers and making them access to better wages who are working in companies like Lyft, Uber, DoorDash, and Grubhub.
The decision was welcomed by mayor of London, Sadiq Khan, who said, "It is a landmark decision for people who suffer from low pay and a lack of security at work. Gig economy workers deserve the same rights as other workers."
Next step involves referral of ruling to an employment tribunal that would decide in following months ways to reward driver and how the decision would further affect the drivers.
The business models that these gig companies follow are rather precarious, though they have been valued in billions of dollars on Wall Street. It is very common for these companies to lose money on each ride and delivery. In 2020, Uber reported a loss of $6.8 billion. This was further aggravated by pandemic as frequency of rides had dropped sharply amid lockdowns.