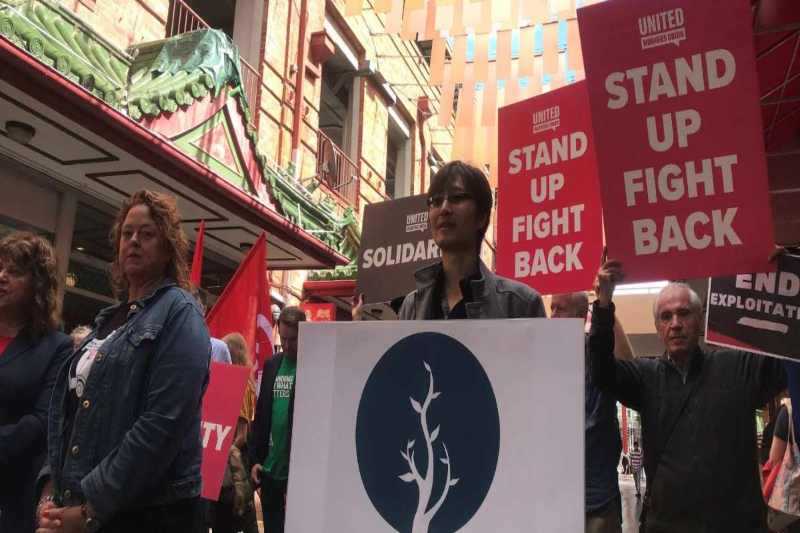 Australia's Chinatown protest
Last updated on February 16th, 2021 at 07:12 am
Local Chinatown in Australia's southern city Adelaide is witnessing protests since Saturday which were triggered by the violent assault of a Chinese female worker who was claiming her wages in Fun Tea, a Chinatown business last week.  
Dozens of protesters gathered outside the tea shop in Chinatown with placards that read "wage theft is a type of discrimination" and "modern slavery". The protests were against businesses that are exploiting employees over their wages and called for the protection of the legal rights of vulnerable labor, especially people of ethnic minorities, migrants, and international students. 
Video of the complete altercation between employer and the worker is circulating on internet that shows the employee, an international student, arguing over her refused wages. The boss is then seen slapping the woman and kicking her. The accused, 39 year old Chinese, Gavin Guo has been arrested and is set to appear in court in May.
Leng Kapsis, who is the founder of Fair Go SA, a nonprofit organization that counsels vulnerable workers, says that rally organizers hoped that through the protest big issue of labor exploitation in South Australia would be resolved. Kapsis notes that post-incident international students are in distress and are afraid to go to work. 
As per the news site bjnews.com, one in five workers in Australia has been a victim of wage theft. The main victims are overseas students who don't know English, and are unaware of the local law. The majority of these are from China.
Adelaide demonstrations saw many Chinese people demanding "Unpaid wages are a disgrace to Chinese Australians" and "We want a safe and legal Chinatown". 
A post-graduate student at Bond University said, "We expect a broader discussion and more regulators to step in to help everyone working in Australia get the rights and dignity they deserve."