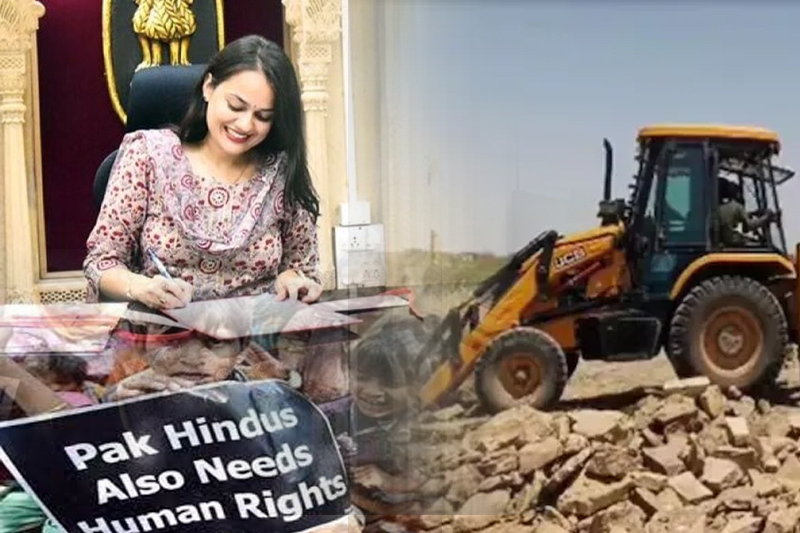 40 bighas of land allotted to hindu immigrants from pakistan by tina dabi, a collector in jaisalmer
Tuesday saw the Jaisalmer district government award more than 40 bighas of land for the rehabilitation of numerous Hindu migrants from Pakistan. They received land that was about 5 miles from the district office and close to Moolsagar.
After Tina Dabi, the Jaisalmer District Collector, made her statement on Wednesday, the migrant protests ceased. The protests began after the Urban Improvement Trust (UIT) on May 17 destroyed numerous makeshift homes in the Amarsagar area and ejected the migrants living there illegally as part of the anti-encroachment effort.
According to Tina Dabi, who spoke to the media on Wednesday, while the designated land would be set aside for individuals still considered to be Pakistani migrants, the allotment would not occur until those individuals attained Indian citizenship.
For the rehabilitation of Pakistani Hindu families who were evicted from public land in Amarsagar, 40 Bighas of land in Khasra Nos. 72 and 73, about 5 kilometers away from the district headquarters, have been allotted, according to Dabi.
The district administration would compile a list of all Pakistani oustees living there, and then verify their accounts with the Small Industries Development Bank of India (SIDBI). We'll also look into how many families have citizenship and how many are on long-term visas. Citizenship holders will receive land distribution priority, while everyone else will queue up to submit applications and go through the process, she said.
Keep Reading
She went on to say that the committee for displaced persons, which had been formed specifically to find a suitable area for rehabilitation and address other pertinent issues, had made the decision. She added that this group would also monitor the subsequent procedure.
Dabi also revealed that the district administration has made arrangements for temporary housing for the Hindu migrants in the government-run shelter house known as "Ren Basera" while the land allotment process is ongoing.
The nearby Bhil Basti, another renovated property that served as a residence for Pakistani refugees, she said, had made it possible for the accommodations to have adequate electrical and water supplies.
More About Land Allottement To Hindu Immigrants From Pakistan by Tina Dabi, A Collector in Jaisalmer
Jaisalmer, a small city in Rajasthan, is known for its sand dunes and ancient forts. However, it has now been in the news for a different reason.
The region has a long and rich history, and it has been home to a diverse group of people for centuries. The arrival of Hindu immigrants from Pakistan has had a significant impact on the local community. While some residents are happy to welcome new members into their community, others have expressed concern about the cultural differences between the two groups.
One of the most important issues in the region is land rights. This announcement by the collector is a significant step in addressing the issue of land ownership among the migrant population. It is an acknowledgment of their right to a secure place to live and to build a future for themselves and their families.
However, it is essential to understand how the community feels about this decision. There are concerns about the possible consequences of granting land rights to Hindu migrants. Some people worry that this may lead to increased tension between the two communities. However, it is crucial to keep in mind that the ultimate goal is to promote unity and tolerance.
The move has been welcomed by some members of the migrant community. For them, it is a symbol of recognition and acceptance. They believe that this decision will go a long way in building a better future for themselves and their families. At the same time, it is also important to recognize that not everyone will agree with this decision.
In conclusion, the announcement of the 40 bigha land allotment to Hindu migrants from Pakistan is an important step in addressing the issue of land rights in the region. It is a testament to the government's commitment to promoting diversity and inclusivity. However, it is also important to address the concerns of all members of the community to ensure a peaceful and prosperous future for all.