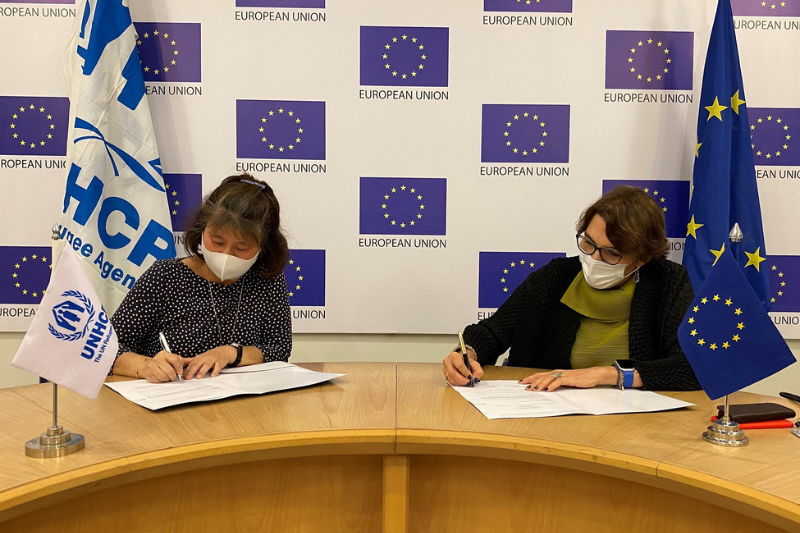 glimmer of hope eu's project to protect migrant workers in pakistan
The European Union (EU), a political and an economic union of 27 member states of Europe, has launched a new project to protect migrants in the Islamic Republic of Pakistan.
The European Union announced the new project on Friday. Under the new EU project, migrants would get protection in Pakistan. The project would also help to prevent irregular migration, trafficking in human beings and smuggling of migrants.
According to the Dawn, the EU will open a new migrants resource center in Peshawar, the sixth most populous city of Pakistan. The new migrants resource center would provide counseling and guidance to migrants in the country, with the help of the existing centers in Islamabad and Lahore.
EU project to help migrants
Dr Riina Kionka, the EU Ambassador to the Islamic Republic of Pakistan, said that the EU would invest five million euros to support the expansion of the migrant resource centers under the new project.
The new EU project titled 'Improving Migration Management and Migrant Protection' aims to contribute to migrant protection in Pakistan, Kazakhstan, Kyrgyzstan, Uzbekistan, Tajikistan and Afghanistan.
Keep Reading
Dr Riina Kionka said that the authorities would fight against human trafficking, migrant smuggling, exploitation, and abuse under the new project.
The new EU project will be implemented by the Inter­national Centre for Migra­tion Policy Develop­ment, an international organization responsible for making policy recommendations on migration-related issues to the government.
Under the project, the authorities will educate people about the potential risks of irregular migration and facilitate the protection of migrants across Pakistan.
The EU is committed to providing tangible support to migrants in Pakistan, notably by considering expanding legal, safe and regular pathways for them. The EU aims to establish enhanced resettlement places for refugees and migrants.
The EU also pledged to stop illegal migration along the ancient Silk Route. Various people in the ancient Silk Route region migrate through irregular channels, increasing the risk of human trafficking and migrant smuggling.