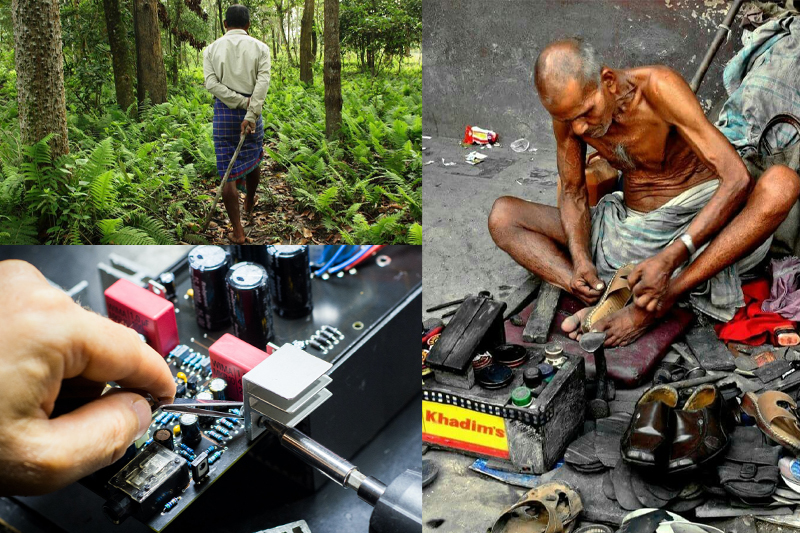 10 lowest paying jobs in india 2022
Last updated on August 26th, 2023 at 10:57 am
What are the jobs that pay the least? Despite the fact that your income can vary greatly based on your geographic area, your degree of expertise, the company you work for, and the minimum wage in your city or state, there are a handful of continuously low-paying industries.
The industries in which these occupations are available range from entertainment to transportation to healthcare. Nevertheless, although being in distinct businesses, they share many commonalities.
Typically, these jobs pay by the hour. Many service jobs require gratuities in order for the employee to earn a living wage.
Here are the 10 Lowest Paying Jobs in India 2023:
Table of Contents
1. Packaging and filling machine operators and tenders
The lowest paying job in India are packaging and filling machine operators and tenders.
They are responsible for operating or tending devices that are used in the preparation of industrial or consumer products for storage or transportation. Cannery workers who pack food goods are included in this category.
2. Shoe and leather workers and repairers
Did you know that shoe and leather workers or repairers are one of the lowest paying jobs in India?
Shoe and leather craftsmen and repairers construct and decorate shoes in addition to a wide array of leather and leather-like products made of leather and leather components. They begin by cutting the various components of the shoe, then affixing the insoles and uppers, followed by the soles and the heels of the shoe. When buffing or trimming shoe parts, they could employ specialized equipment.
3. Woodworking machine setters, operators, and tenders, except sawing
Another low paying job in India are woodworking machine setters and operators.
They are accountable for the installation of woodworking machines as well as their operation and maintenance. Some examples of these devices include drill presses, lathes, shapers, routers, sanders, planers, and wood nailing machines. A possibility to run machinery that is computer numerically controlled (CNC).
4. Textile winding, twisting, and drawing out machine setters, operators, and tenders
Anything that has to do with managing textile can line you up for a low paying job.
It is expected of a Textile winder to take care of the winding machine, which is used to wind yarn from hanks onto spinning bobbins or from spinning bobbins onto other bobbins, spools, cones, cheeses, and other similar objects.
5. Forest and conservation workers
Are you surprised that forest and conservation workers in India get paid low salaries?
Forest workers and people who work in conservation do fundamental activities in order to preserve and improve the condition of the forest. When planting seedlings, they employ instruments for digging and planting, whereas when cutting down unhealthy trees, they use power saws. Some people find employment in tree farms or orchards, where they are responsible for the planting, cultivating, and harvesting of a wide variety of tree species.
Keep Reading
6. Electrical, electronics, and electromechanical assemblers
Another low paying job on the list are workers in the electronics field, particularly the assemblers.
They are accountable for installing components, units, subassemblies, wiring, or assembly casings by utilizing rivets, bolts, soldering or micro-welding equipment. Additionally, they are liable for building electrical or electronic systems or support structures.
7. Furniture finishers
Seventh on the list of low paying jobs in India is the job of a furniture finisher.
A furniture finisher is responsible for applying finishes such as stain, lacquer, paint, oil, and varnish to furniture, as well as polishing and waxing the surfaces of finished furniture. Other activities will include inspecting and disassembling pieces of furniture in order to ascertain the level of damage or degradation they have sustained and the most appropriate strategy for restoring or repairing them.
8. Roofers
One of the low paying jobs in India is also being a Roofer!
Roofers are responsible for the installation, repair, and replacement of sloped and flat roofs, as well as the installation of shingles, shakes, and other roofing tiles. Shinglers are responsible for the installation and replacement of shingles, tiles, and other roofing materials on sloped roofs. They may work for general contractors and roofing contractors as employees, or they may be self-employed.
9. Food and tobacco roasting, baking, and drying machine operators and tenders
The tobacco business isn't that too good of a field and some of its jobs are actually one of the lowest paying jobs in India!
They operate or tend to equipment that roasts, bakes, dries, or cures food items including cocoa and coffee beans, grains, nuts, and bread products. Other examples of food items that this equipment processes include fruits and vegetables. Send a signal to your teammates so that they can synchronize the flow of materials. The quantity and kinds of products that need to be baked, dried, or roasted can be determined by reading the work orders.
10. Taxi drivers and chauffeurs
Last on the list are taxi drivers and chauffeurs!
The tasks of picking up customers, driving them to their destinations, and handling their money are all part of the job description for a taxi driver. In addition to this, you should make sure that every journey is both secure and enjoyable. If you want to have a great career as a cab driver, you need to be on time, reliable, and very good at managing your time.
That is the rundown of the lowest paying jobs in India 2023. Which do you think is the highest paying job though?