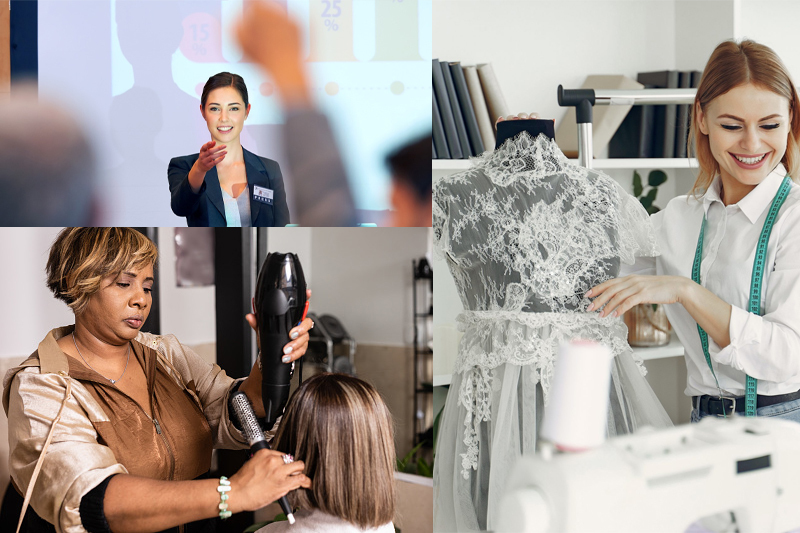 10 highest paying fashion jobs 2022
Last updated on August 26th, 2023 at 11:38 am
If you have an interest in fashion, there are numerous well-paying employment options in a variety of industries, including design, marketing, and publishing. By researching fashion careers, you can obtain a better understanding of which career best matches your talents, interests, and experience.
This article highlights 10 of the highest-paying fashion occupations, together with their wages and key tasks, in order to assist you in determining which is the greatest fit for you.
Here are the 10 Highest Paying Fashion Jobs 2023
1. Stylist
The highest-paying job in fashion is being a Stylist!
Fashion stylists arrange and coordinate customers' ensembles to help them appear their best or to highlight the garments themselves. They may choose attire for photo sessions, advertising campaigns, television and film projects, and public appearances.
Attending fashion shows or events, obtaining apparel from brands, and consulting on sets with other creative professionals such as hairstylists, makeup artists, and art directors are the tasks of stylists.
2. Fashion Designer
Are you surprised that being a Fashion Designer is only second on the list of the highest-paying jobs in Fashion?
Fashion designers make unique garments and accessories, typically specialized in particular products. Depending on the designer, they may develop goods for mass manufacturing or individual pieces for runways, boutiques, and upscale stores. Fashion designers are involved in all aspects of a collection's creation, from conceiving and sketching design concepts to making garment prototypes and selecting materials.
Those with greater control over their designs can also make decisions regarding manufacturing, production, and merchandising.
3. Public Relations Manager
It's true that being in public relations brings in the big bucks!
Fashion public relations managers oversee a company's public relations and communications departments, ensuring that the company's positive reputation is maintained. They are responsible for supervising and implementing public relations plans, which frequently involve establishing partnerships with media sources to promote the brand.
Fashion shows, press releases, fashion lookbooks, and showroom appointments are examples of promotional events and campaigns. In addition, fashion PR managers oversee their team's marketing and PR calendars, media target lists, and press kits.
Keep Reading
4. E-commerce Manager
E-commerce managers are fourth on the list of highest-paying jobs in Fashion!
Managers of fashion e-commerce handle an organization's online sales presence with the ultimate goal of increasing revenue. Regular duties include monitoring sales data and inventory levels, developing price plans, and arranging promotional campaigns.
They may collaborate with other departments, such as the development and marketing teams, and build search engine optimization tactics to enhance the online purchasing experience. E-commerce managers have administrative responsibilities, including the management of payments and returns.
5. Brand Manager
Being a brand manager in the fashion industry is challenging as it is one of the highest-paying jobs in fashion!
Fashion brand managers oversee the construction and maintenance of a company's image in order to attract and retain clients. They work with the creative, marketing, and product development teams to ensure that all product launches comply with the brand's message and values.
They are responsible for overseeing and approving the creation of promotional content, including commercials, email campaigns, and websites. Market research is also used by fashion brand managers to evaluate which areas the company should invest in depending on the spending patterns and wants of customers.
6. Marketing Manager
Marketing plays a crucial role in the fashion industry and it is one of the highest-paying jobs in fashion.
Managers of fashion marketing find the most effective sales-driving marketing methods for a firm or brand. They are responsible for overseeing branding initiatives, developing advertising campaigns, and analyzing the results of these strategies.
Fashion marketing managers cooperate with the marketing and product development teams and oversee the creation of advertising briefs, logos, and package designs. In addition, they must analyze market developments in order to determine whether a marketing plan is effective or requires adjustment.
7. Account Executive
Account Executives are also included in the list of high-paying fashion jobs!
Account executives in fashion are responsible for promoting retail chains or designer companies to aid in product sales.
They meet with media outlets and representatives to arrange advertising campaigns, which may include ads in print publications, on the internet, on television, and on billboards, among others. Account executives frequently establish sales and revenue targets and conduct trend analysis to enhance the brand's sales strategy.
8. Merchandising Manager
Merchandising managers in the fashion industry make judgments on the supply, pricing, and presentation of merchandise at retail outlets. Maintaining the store's physical look, arranging sales promotions, and monitoring inventory levels are daily responsibilities.
Additionally, fashion merchandising managers undertake market research and customer data analysis. They may use this information, for instance, to identify which vendors to purchase things from or which products will sell best in their store.
9. Fashion Buyers
Did you know that being a buyer in the fashion industry is a high-paying job?
Buyers monitor the most recent fashion trends and collaborate with retail or department stores to choose the merchandise sold in their stores. Buyers may be required to attend trade events and fashion shows, or meet with designers to locate merchandise.
Before selling products in stores, buyers examine pricing, quality, and consumer preferences while making purchasing selections. They may also be responsible for negotiating contracts and coordinating deliveries with vendors.
10. Editor-in-Chief
Last on the list of high-paying jobs in Fashion is being an Editor-in-Chief! Can you believe it?
A fashion editor-in-chief controls digital or print publications and makes the ultimate publishing choices.
For instance, they would be responsible for establishing the tone of a publication and arranging its layout, design, and monthly content. In addition, they supervise the editorial and writing team, make hiring choices, and manage the publication's budget. A fashion editor-in-chief represents their publication and promotes it by attending fashion shows and other industry events.
That wraps up the list! What's the most unexpected job for you?